Platform Tennis Has Lost a Valuable Friend
August 19, 2022
Duane L. Hayden RIP
We are deeply saddened by the passing of Duane L. Hayden, an ardent contributor to the game of platform tennis. As the Tournament Director for this year's Men's and Women's Nationals in March, he could be found walking the grounds supported by his golf club canes, greeting fans and players. His name was attached to the Men's Long Island Invitational, a long-standing LIPTA event. Duane was also presented with the APTA Service Award in 2014.
Duane brought the 2002, 2012, and 2022 Men's and Women's Nationals to Long Island, along with every other type of Nationals: Juniors, Mixed, Husband and Wife, and Masters. He was President of LIPTA from to 2002-2013, the Platform Tennis Chair at Huntington Country Club, as well as a HCC team captain for 35 years. When asked why he gave so much of himself to the game, Hayden said, "The paddle community as a whole is quite unique. To a person, they are all very nice, which makes it all very nice to do."
The APTA family sends our most sincere condolences to the family and friends of Duane L. Hayden.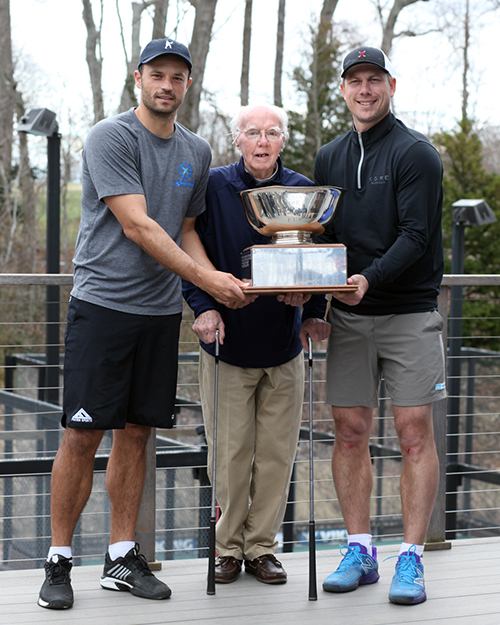 Duane L. Hayden between the 2022 Men's Nationals Champions Sven Burus and Mikk Irdoja. Credit: Larry Cornacchia