The Boys of Summer - Part 2
Brad Easterbrook
August 21, 2013
New Canaan, Connecticut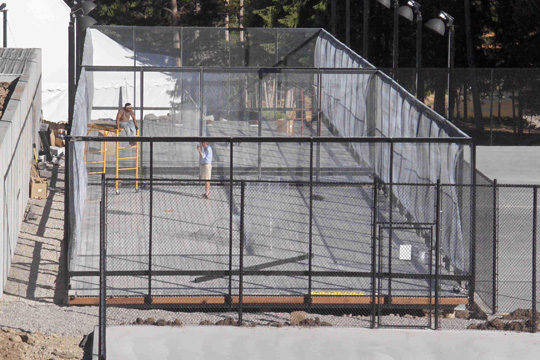 Paddle Nation's second "Boys of Summer" are the crews that build and maintain platform tennis courts throughout the country. Due to increasing demand that has been fueled by passion for the sport, an active grant program from the APTA, increasing awareness of the benefits of hiring a year-round professional, and continued national outreach programs, paddle courts are going up all over the country. That's right…all over the country! Not just in typical hotspots such as Chicago or the tri-state area, but in Charleston, South Carolina, Yellowstone in Wyoming, Richmond, Virginia, Boulder, Colorado, etc. And the numbers seem to grow every year.
In a conversation with David Dodge of Total Platform Tennis he indicated that this was his busiest summer yet and that they have been working non-stop throughout the months of June, July and August. When I called to leave a message, the voicemail box was full.
This demand for new courts and the emergence of more year-round play has created a shift in the way business is getting done. It's a common misperception that paddle companies are busy from September through March and that the summer is the slow time. This cannot be further from the truth. The reality is that the slow time is usually in the winter during the height of the paddle season. By that time, most of the work has been done and only small maintenance projects remain. This misconception leads people to believe that they should contact the companies to start work in September to get some work done. In today's environment (PPTA pros and club chairmen take note) you should be calling by June 1st to schedule times for work to be done. If you can make a call in April, you are also likely to possibly get better pricing as well.
As Don Henley sings, "Nobody on the road. Nobody on the beach. I feel it in the air. The summers out of reach. Empty lake, empty streets. The sun goes down alone. I'm driving by your house. Though I know you're not home."
That's because more and more of us are out playing paddle, building new paddle courts or upgrading our facilities. Just make sure you call Total Platform Tennis or Reilly Green Mountain early enough to get your work scheduled and you'll have even more time to get your programs up and running.
Slides courtesy of Total Platform Tennis