Region II News 2008-2009
Shelter Harbor Inn Shoreline Classic
JIM DEY
WESTERLY, RI,
MARCH 28-29, 2009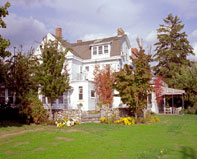 We had a very exciting end to the American Platform Tennis Association Season on March 28th & 29th. The men's tournament on Saturday had 15 teams and the mixed doubles on Sunday had 12 teams. In the men's semifinals Bill Saunders & Charlie Short won an exciting match over Marc Porter & Steve Heath and Ned Handy & Dan McCormick won an equally exciting match over Pete Harvey & Geoff Cartier. In the finals Saunders & Short prevailed in another great match beating Handy & McCormick 6-4, 7-5.
Essex Takes Back the Big Paddle
GEOFF CARTIER
MARCH 21, 2009
WEST HARTFORD, CT
On February 28th, the Essex Platform Tennis Club took back the Big Paddle after a day of closely contested paddle at the Hartford Golf Club. The inter- club competition annually pits Essex, Hartford, Shelter Harbor, and Longmeadow against each other.
The Essex squad included Jerry Albrikes, Dave Clark, Rob Caserta, Steve Godiksen, John Cunningham, Geoff Cartier, Rodsy Diotalevi, Ryan McGetrick, Carl Bergstrom, and Matt Rowe. Essex is excited to have won the Paddle for the third time in four years.
Thanks to Courtia Worth and Gil Keegan for hosting a great day of paddle.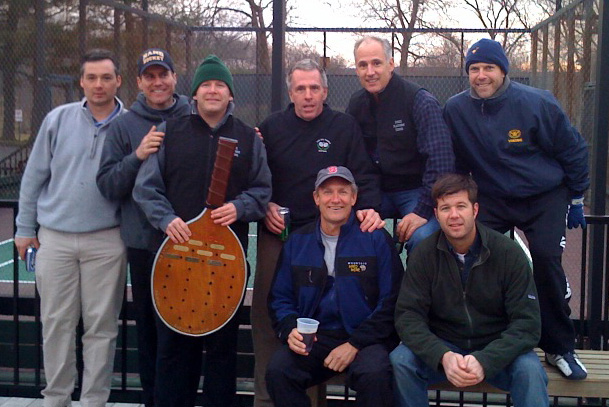 Island B slides
MARCH 16, 2009
NEWPORT, RI
Region II Update
ROB COSTER
MARCH 9, 2009
The Open Nationals & President's Cup have just been concluded in Cincinnati. A couple of Region 2 teams suffered setbacks with injuries, but overall they represented our region admirably. Congratulations to them and also to Tournament Chair Todd Ward and his support team for hosting a great event.
Just because the big hitters have wrapped up their season, it's no reason for you to put away your paddle. There are three really fun events left on our calendar.
Newport, RI is hosting the inaugural men's "Island B" this coming Sunday. About a dozen teams have signed up already but they could use a few more teams to round out the draw. I heard there may be an award for the best "Island" garb sported at this tournament. So break out your gaudiest Hawaiian shirts. Jacques Faulise & Barclay Douglas are hosting this event. Contact them today to sign up.
And Shelter Harbor has always closed out our season with a bang. The Shoreline Classic is two days of paddle, beer and hot tub sports. The men's event is Saturday, March 28th followed by a mixed event on Sunday, March 29th. Rooms are available at the Shelter Harbor Inn for those wishing to play in both. It's best to call Jim Dey since he's not the best with his email. His number is 401.322.8883.
In closing, I'd like to thank all the individual Tournament Directors who hosted events this season, especially the two Regional Tournament Chairs, Charlotte Gilet and Jerry Albrikes for their incredible contribution and dedication. Our region held 30 events this season and it couldn't of happened without the efforts of this group of friends.
Thank you!
Come to the Island B
FEBRUARY 18, 2009
NEWPORT, RI

Region 2 is adding a touch of the islands to its spring schedule. The Newport country Club is happy to host the Island "B" men's tournament on Saturday, March 15. Jacque Faulise is Tournament Director.
Locals Reign at the Oden Cox Memorial Women's B Tournament
NUFFY MURPHY, TOURNAMENT DIRECTOR
FEBRUARY 18, 2009
SHELTER HARBOR, RI
Mother Nature provided lots of sunshine for the Oden Cox Memorial, Women's B Tournament held last Saturday at the Shelter Harbor Paddle Club in Westerly, RI. The draw filled nicely with thirteen teams from lands as far north as Boston, MA and as far south as New Canaan, CT; Cape Cod, Jamestown and Newport, in between.
Western New England Men's PCQ
DAVID FULLER, TOURNAMENT CHAIR
FEBRUARY 17, 2009
LONGMEADOW, MA
Jerry Albrikes moved into a tie for first in Region 2 President's Cup points with the inactive Lennart Jonason by winning the 19th Annual Western Massachusetts Championships, the last of the region's five events, which was hosted by the Field Club of Longmeadow here on Valentine's Day 2009.
Schuyler Meadows Women's B Results
FEBRUARY 8, 2009
LOUDONVILLE, NY

The Schuyler Meadows Women's B was held Saturday, February 7, at the Schuyler Meadows Club in Loudonville, NY.
Congratulations to Michelle Cannon & Rhonda Colvard for their victory over Laurie Holl & Hilary Meyers. Full Draw

Oden Cox Memorial Women's B Tournament Scheduled for February 14th
ROB COSTER
JANUARY 23, 2009
SHELTER HARBOR, RI
The Oden Cox Memorial Women's B Tournament will be held at Shelter Harbor in RI on Saturday, February 14th. Nuffy Murphy is the tournament director. She can be reached at nuffy1@comcast.net . The entry fee will be $100 per team to include lunch at the Inn and a take-away goodie. Prizes for the Draw winners and runner-up, consolation and reprieve winners. Nuffy can also be reached by cell at 860.460.5095.
McMahon & Palmer take the Madison Women's PCQ Title
KITTY PALMER
JANUARY 11, 2009
MADISON, CT
Main Draw
Winners: Meghan McMahon & Kitty Palmer (6-4, 6-3)
Runners Up: Barb Bettigole & Allyson Bolduc
3rd: Janet Linehan & Wendy Yang
4th: Deirdre Reddon & Tricia Bloom
Reprieve
5th (Winners): Cynthia Knight & Cynthia Potter (6-3, 6-4)
6th (Runners Up): Courtia Worth & Jill Tryon

7th: Michelle Cannon & Rhonda Colvard (by default)
8th: Carol Velasco & Katherine Irving
Consolation
Winners: Hillary Meyers & Laurie Holl (6-3, 7-5)
Runners Up: Asa Nilsson & Kelly Hellstein
Last Chance
Winners: Barb Coster & Betsy Bergstrom (6-1, 6-3)
Runners Up: Tiffany Heineman & Kristin Martin
Region 2 News
ROB COSTER
JANUARY 7, 2008
Happy New Year everyone!

The platform tennis season in Region 2 is hitting full stride with two great events this coming weekend. Some of the best men in the northeast are coming to The Country Club in Brookline, MA this Saturday for the Boston National Open National Ranking Tournament. Jerry Albrikes is the Tournament Director for this event filling in for Rob Pierce who, along with his wife are expecting a baby any day now. Not sure why Rob needed a replacement, after all Dan O'Brien was playing Shelter Harbor last fall while his wife Carol was home in Albany cranking out baby number six or seven!!! Dan lost count. Anyway, for those that don't know Jerry, he along with partner Lennart Jonason are the top ranked team in the country from our region. Jerry also fills the shoes of Region 2 Men's Tournament Chair and helps organize the men's tournaments around the Region. For the past few months Jerry has been fighting a battle with cancer. As Tournament Director of the Boston National Open, Jerry has announced that a donation from this event will go to the Dana-Farber Cancer Institute where Jerry received his treatment. I certainly know times are tough, but I'd like to ask anyone who is able to help Jerry with a donation to the Jimmy Fund. Please mail a contribution made payable to "The Jimmy Fund" to Jerry's home at 92 Pequot Avenue in Mystic, CT 06355 or stop by and visit me at The Country Club this Saturday and drop off a donation. Jerry & I thank you!
And if you're in Madison, CT this Saturday, drop by The Madison Racquet Club and watch the best women play while dropping off a donation to the Jimmy Fund. Tournament Director Kitty Palmer will make sure your contribution gets to Jerry.
Oh by the way, both Jerry & Kitty are looking for a few more teams to round out their draws. Email them now to sign up for their tournaments.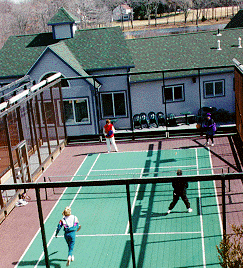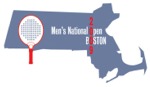 The Boston Open Men's National Ranking Tournament is scheduled for January 10th, 2009. Tournament Director Jerry Albrikes has announced that a donation will be made to the Jimmy Fund at the Dana-Farber Cancer Institute.
Email Jerry today at mnvike@aol.com to sign up.
Kitty Palmer is hosting the Madison (CT) Women's President's Cup Qualifiying Tournament this Saturday. This event year in and year out is one of the best women's event in the Region.

Please email Kitty today to sign up for this fun day of paddle. Kitty can be reached at KPalm821@aol.com
4th Seeds Doup and Dhamodharan Win the Longmeadow Men's 95+
BOB DURFEE
DECEMBER 23, 2008
LONGMEADOW, MA
The Longmeadow Men's 95+ had a good turnout of 22 teams this year, with western Mass dominating over other region 2 areas.
Click here for the full draw.
Semis
Finals
Winners
McCormick / Heath
Doup / Dhamodharan
2-6,6-3,6-1
Doup / Dhamodharan
6-2,1-6,7-6
Doup / Dhamodharan
Lynch / Kennedy
Morneau / Larsen
7-6,6-3
Morneau / Larsen
Clarke and Teglas Win Essex Men's B Tournament on Dec. 20th
JAMEY BRUNS, ESSEX PLATFORM TENNIS CLUB
DECEMBER 21, 2008
ESSEX, CT
Last year, Don Clarke and Gordon Teglas came up short in the finals of the Essex (CT) Men's B Tournament. This year was a different story as they outlasted John Bauman and John Cunningham in the finals 4-6, 7-5, 6-1.

However, before a ball could be struck or a match played, the courts needed to be cleared of snow. Friday's storm had deposited a significant amount of the white stuff on the Connecticut shoreline area. A crew of tournament players and club members cheerfully pitched in to get the job done.
There were some very tight matches played in the morning's early rounds. Eventual semifinalists Jay Fritz and Adam Winstanley took out Rich Goldfeder and Matt Rowe 6-2, 4-6, 6-4 in the first round. Craig Leonard and Charlie Ulmer earned a tough 6-0, 6-7 (5), 6-3 victory over Russ Burgess and Rob Coster in another tight first round matchup. In the quarters, Bill Dubois and Palmer Whitney eaked out a 7-6 (2), 6-4 win over Leonard and Ulmer.
The semifinals saw Clarke and Teglas eliminate DuBois and Whitney 6-4, 6-3. In the other semifinal matchup, Bauman and Cunningham slipped by Fritz and Winstanley 6-4, 6-2 to set up the final round matchup.
Michael Foye and Steve Godiksen took the Quarter Reprieve with a 7-5, 6-4 decision over Leonard and Ulmer. The Consolation was won by Burgess and Coster. They defeated Barclay Douglas and Evan Smith 6-3, 6-3. And long after most people had left, Dan Corcoran and Mark McDonough persevered over Bill Halsey and Tom Riggio in the Consolation Reprieve. The scores in that match were 5-7, 6-3, 6-1.
Thanks to all the volunteers who helped shovel snow and allowed the matches to be played pretty much on schedule. Thanks also to chef Dave Forrest of the The Oxford Academy for a delicious lunch.
Semis
Finals
Winners
Don Clarke - Gordon Teglas
Clarke - Teglas
6-4, 6-3
Clarke - Teglas
4-6, 7-5, 6-1
Bill Dubois - Palmer Whitney
Jay Fritz - Adam Winstanley
Bauman - Cunningham
6-4, 602
John Bauman - John Cunningham
SANDRA DURYEA & LANEY MAKIN WIN LADIES' 95+ NEW ENGLAND CHAMPIONSHIPS
DAN McCORMICK
DECEMBER 16, 2008
SOUTH HAMILTON, MA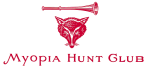 The Ladies' 95+ N.E. Championships were played on December 7, 2008 at the Myopia Hunt Club in South Hamilton, MA. Teams gathered from the greater Boston area as well as Vermont and Cape Cod for a great day of paddle. One of the first matches of the day was also one of the most exciting. The first seeds and 2008 finalists Sandra Duryea & Laney Makin played Lisa Pierce & Gail Bogle to an exciting 5-7, 6-3, 7-5, victory.
Following are the results of the four finals:
Main Draw: Sandra Duryea & Laney Makin def. Cynthia Knight & Allison Hughes (6-3,6-4)
Reprieve: Natalie Sanders & Kathleen Esposito def. Nancy Drake & Sylvia Stephenson (6-2,6-2)
Consolation: Nancy Bildner & Ann Pulver def. Lisa Pierce & Gail Bogle (7-5,6-0)
Last Chance: Kim McIntyre & Sharon Edwards def. Elana Arnold & Sandy Richardson (no score reported)
2008 Brae Burn Men's "B" Results
DECEMBER 16, 2008
WEST NEWTON, MA
The Brae Burn Men's "B" was played on December 6. Click here for the full draw.

MAIN DRAW LATE ROUNDS
Semis
Finals
Winner
Moore-Krauter
Moore-Krauter
1-6, 7-6(3), 7-6(5)
Claman - Whitman
7-5, ret.
Fivek - Whitman
Claman - Whitman
Claman - Whitman
6-7(4), 6-3, 6-1
Sawyer - Jenkins
Greater Boston Women's Open 2008
December 15, 2008
Boston, MA
With prizes like this, you know the tournament was fun! Read all the details from this December 13th event. More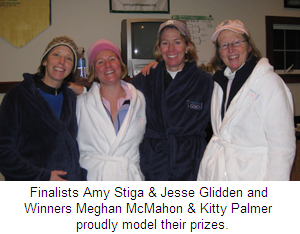 Albrikes & Jonason Capture the New England Men's PCQ
DECEMBER 15, 2008
ESSEX, CT
Click here for printable draw.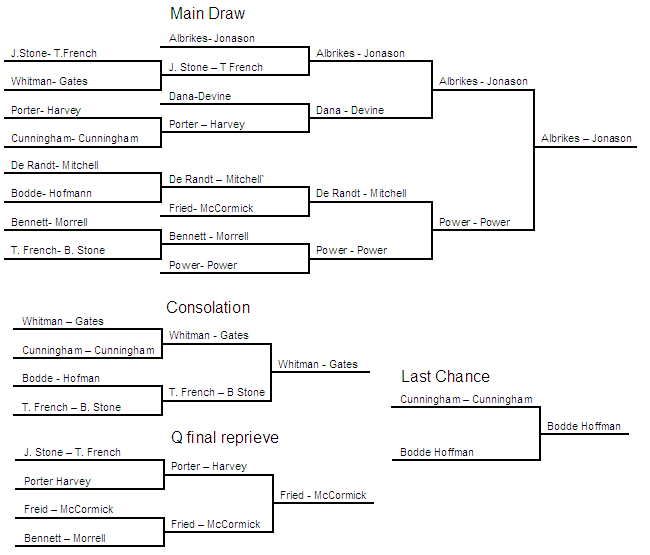 Region II News
ROB COSTER
DECEMBER 10, 2008


Time is tight so you've got to act now. Three events remain before the Christmas holiday. Two are this weekend so email the respective tournament directors today if you want to play. Just click on the Tournament Director's name in the events outlined below and it will format an email to that person. Sorry for the short notice. I hope you play in these events.
I personally witnessed a great platform tennis event last Saturday. Jamey Burns ran the inaugural CT Shoreline Women's "B" tournament in Old Lyme, CT. 16 teams came from 5 differ