Region IV News 2009-2010
Moustaches and Maple Leafs Mark Canadian Open
FRITZ ODENBACH
APRIL 9, 2010
TORONTO, CANADA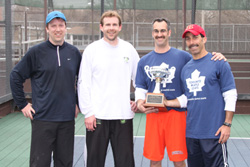 There was an amazing turnout in Toronto, Canada on March 27th for those in search of victory at the Canadian Open and the honour of having their name etched onto the Joe Stulac Memorial Trophy. A number of teams made the annual post-nationals pilgrimage from New York, New Jersey, Pittsburg, Buffalo, Rochester, Niagara and ...wait for it...Nares Inlet (go ahead - mapquest it). There was great weather and even greater food arranged by Suzanne Lanthier - with plenty of laughs, beers and of course "Fritz's Spritzs".

Main draw finishes included two-time defending champs Rusty Wright/Fritz Odenbach losing in the semis to past Canadian Open champs Paul Stulac/Scott McFaden (6-2, 7-6) and Ray Crosta/Steve DeRose defeating Mike Stulac/Andrew Daw in other the semis (7-6, 6-4). Ultimately, Crosta/DeRose sporting handlebar moustaches in a show of team unity and matching Toronto Maple Leaf T-shirts in an effort to win over the crowd, emerged as new champions by defeating two 'Stulacs' enroute to their fist national title (6-4, 6-3) in the final.


In the women's draw, Sandra Odenbach and "home-comer Canadian" Nathalie Lemieux took down reigning champs Anna Lis/Stephanie Russell in a gruelling 3-set match final. The new champs had to claw their way back from a 0-3 (two-breaks) deficit to win 7-5 in that deciding set! (6-3, 1-6, 7-5)

And of note, the match of the weekend goes to a 1st rounder between (very) new-comers Dan Hassel and Rob McLernon who defeated seasoned veterans Ted Lis/Ted Stitski (7-6, 6-7, 6-4) in a 2-hour plus marathon!

Congrats to all who contributed to make the weekend such a success.
Pre-Tournament Buzz Attracts Juniors to Cleveland Open
JEROLD (J.T.) TINJACA
MARCH, 2010
CLEVELAND, OH

On February 6, the Cleveland Racquet Club (CRC) held its first Junior Paddle tournament. The highly successful event featured the talents of many local athletes. The pre- tournament buzz circulating among paddle enthusiasts generated an unexpectedly high number of players of varying skill levels from a variety of neighboring Clubs. Full Coverage
Fuller-Kotalik Repeat at Onondaga
FRITZ ODENBACH
MARCH 21, 2010
SYRACUSE, NY
Congratulations to our Onondaga Country Club Paddle Champions Darren Fuller and Jeff Kotalik, who have repeated their 2009 victory.
The membership of Onondaga CC has made huge strides in improving their paddle commitment and are continuing to grow their numbers. OCC is looking to improve their facilities, build a paddle hut and attract new talent by offering clinics and other activities.
Props Outlast LeFevres for APTA Husband-Wife Title Ohlmuller & Johnson Defeat Main & Caldwell in Outstanding 3 Set Final
MARCH 13-14, 2010
CLEVELAND, OH

The unseeded team of Heather and Vince Prop won the 2010 APTA Husband-Wife National championship defeating Jessica and Nathan LeFevre. They came back from a first set loss to triumph in an exciting three setter 3-6, 7-5, 7-5.
Marina Ohlmuller and Mark Johnson teamed up for their first run at the APTA Mixed Nationals, and after an amazing 3 set final against Aila Main and David Caldwell, they emerged victorious, 6-7, 6-0, 7-5.
Rochester Raises over $17,000 to Help Breast Cancer Patients
FEBRUARY 5, 2010
ROCHESTER, NY
The 4th Annual Ladies Paddle Tournament to benefit Sustain-Inspire-Survive (SIS) took place in Rochester, NY, on January 23rd. The tournament raises money for women struggling financially while undergoing treatment for breast cancer. SIS was founded in 2005 by breast cancer survivor Andrea Caruso. It is a local, grassroots organization, so participants know that all the money raised goes to work in Rochester, and contributions for the tournament and auction come from all corners of the city.
Region IV Women's President's Cup Standings
JANUARY 20, 2010
Another Midwesterns Wraps Up
JANUARY 23, 2010
CINCINNATI, OH
This year brought new champions in the Midwesterns Men's Open. After years of dominance by Flip Goodspeed and Scott Mansager, the title was won by Mike Cochrane and Scott Estes, who defeated Mike Marino and Brian Uihlein 6-32, 6-3 in the finals.
In the Women's Open, Heather Prop and Lynn Schneebeck held onto their 2009 title by prevailing over Suzanne Lemery and Marina Ohlmuller.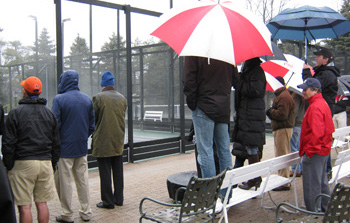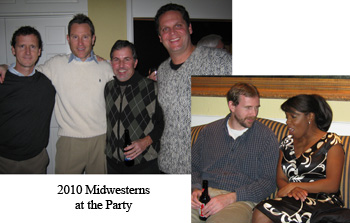 New Albany CC Hosts Exhibition
DENNY ENGLISH
JANUARY 3, 2010
COLUMBUS, OH

In an effort to build paddle here in Columbus, we had a fun exhibition and teaching event at the New Albany Country Club in December. Brian Heil, Thad Reed, Drew Eberly and I played an exhibition for about an hour, and then we played some fun games and drills with members.
About 50 people came out for the event. It was a good turnout and hopefully it has generated some excitement among the NA members. I'd love to see more of them out on the courts and involved with the sport.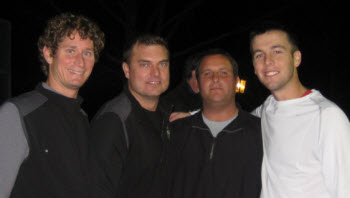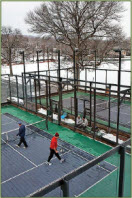 Region IV Women's President's Cup Standings
DECEMBER 15, 2009
2009 West Penn Open
DECEMBER 6, 2009
PITTSBURGH, PA

Congratulations to Karen Henke and Hollly Peck for winning the West Penn women's title this weekend, and to Brett Englesberg and Jeff McMaster for winning the men's title. The West Penn Open has been contested since the early days of Pittsburgh paddle in the 1970s, and it's still going strong.
Parents and Children Play in Cincinnati
VICKI SWEENEY, TOURNAMENT DIRECTOR
DECEMBER 2, 2009
CINCINNATI, OH

A record number of parents and their children showed up at Cincinnati, Camargo and Hyde Park Country Clubs in Cincinnati, Ohio on a beautiful November day for the 7th Annual Adult/Child Platform Tennis Tournament. Thirty five teams competed in 3 divisions.
The 8 to 10's were at Hyde Park, where Andrew and Brian Brockhoff prevailed in a tough match against Tamara and Sven Knobloch for the win. The 12 and unders played at Cincinnati CC where Nathan and Bill Benning outlasted Catherine and Anne Shanahan in the final match. The 16 and unders fought it out at Camargo Club where the final match pitted last minute entry Oliver and Andy Mauk against Nils and Thorsten Knobloch. The Mauks came away the winner, but there was a lot of sweat left on those courts.
There were lots of smiling faces, cherished time spent between parents and their kids, favors, food and plenty of exercise. Talk about priceless. This was it. So grab your kid, play some paddle and get ready for next years tournament.
| | | |
| --- | --- | --- |
| Mauks - 16 & Under Winner | Brockhoffs - 8 & Under/10 & Under Winners | Bennings - 12 & Under Winners |
High Level Competition Marks 35th Cleveland Masters
ANDY SIKOROVSKY
NOVEMBER 18, 2009
CLEVELAND, OH
Highly competitive teams competed in the various 35th annual Cleveland Masters tournaments held November 13-15. The weather was warmer than most paddle conditions which made for a lively competition.

In the Men's Open, National Ranking and President's Cup Qualifier, the #1 seed and defending champion team of Brian Heil and Denny English from Columbus, OH, retained their crown for the second straight year. They beat Brett Englesberg and Jeff McMaster from Pittsburgh, PA in the finals 6-3, 7-6 (8-6).

In the Ladies Open and President Cup Qualifier, #4 seed Janet Mazzola, Cleveland, OH, and Ann Turner, Cincinnati, OH beat unseeded Holly Peck and Karen Henke form Pittsburgh 5-7, 6-3, 7-6 (7-5). This marked the first time Janet has won the tournament and the first time since 2002 that a hometown Clevelander was victorious. It was the second time that Ann won the tournament, last winning in 1999. Holly and Kelly were no stranger to the finals. Holly having won in 2000, 2001, 2003, 2004 and 2007 and Karen won in 2003 and 2004. The team was also runner's up in 2006.

In the Men 90+, there was a rematch of last year's finals with a different ending. This year the team of Danny McLaughlin, Cleveland, OH, and Bill Sullivan, Columbus, OH, beat Eric Miller and John Schloss.

Hope to see everyone back in Cleveland for the APTA Mixed National Championships March 12 - 14, 2010 and the Cleveland Masters next November!
Date Change for Miami Valley
NOVEMBER 20, 2009
DAYTON, OH

The dates for the Miami Valley Men's and Women's Championships have changed. The new dates are:
Women: Friday, January 22, 2010
Men: Saturday, January 23, 2010
For further information, please contact Nancy Budde at 937-304-4439 or buddenjb@aol.com.
Four Tourneys at 31st Shadow Lake
OCTOBER 27, 2009
ROCHESTER, NY
This past weekend saw a lot of platform tennis action at the Shadow Lake Golf and Racquet Club and other Rochester area clubs. The 31st Annual Shadow Lake Invitational Platform Tennis Tournament included separate Men's Open, Men's B, Women's Open and Women's B tournaments, with the open payers battling for for ranking and President's Cup points.
Congratulations to the winners and finalists:
Men's Open


Men's Open Draw
Draw
Winners
Finalists
Main
Martinez-Arraya / Albrikes (6-2, 6-4)
Odenbach/ LeFevre
Consolation
Slobin - Levanat (6-4, 7-6)
Misitrano - Catter
Reprieve
McMaster/ Englesberg
Stulac/ McFaden
Cons. Reprieve
Daw - Pike (1-6, 7-6, 6-3)
Sperry - Nguyen

Men's B


Men's B Draw
Draw
Winners
Finalists
Main
Valenti/ Hopfinger (6-4, 6-4)
Otterbein/Carr
Consolation
Allen/ Clements
Ryan/Caroselli
Qtr. Reprieve
Reynolds/ Roselli
Chiarenza/ Kloppenburg
Cons. Reprieve

Women's Open


Women's Open Draw
Draw
Winners
Finalists
Main
Odenbach/ Henke (6-3, 6-0)
Lemieux/ Fisher
Consolation
Bothner/ Maher
Wein/ Colville
Qtr. Reprieve
Nagy/Dyminski
Ulrich/ Lanthier
Cons. Reprieve

Women's B


Women's B Draw
Draw
Winners
Finalists
Main
Irvine/Meyer (6-0, 6-1)
Luken/O'Connell
Consolation
Reprieve
Hanna/Palvino
Baxter/Malburne
Cons. Reprieve
Gallagher/Hughes
Papini/Torchio
| | |
| --- | --- |
| Men's Open Finalists | Women's Open Finalists |