The Flats Breaks The Tape
June 29, 2022
Cleveland, OH
12 years incubation; 11 dedicated board members; 400 donors; 110 members; 36 mentees; 4 courts; 1 year of construction. It is Play Time at The Flats Platform Tennis Center!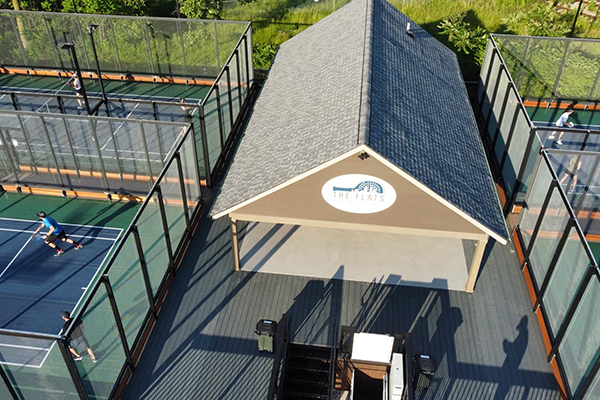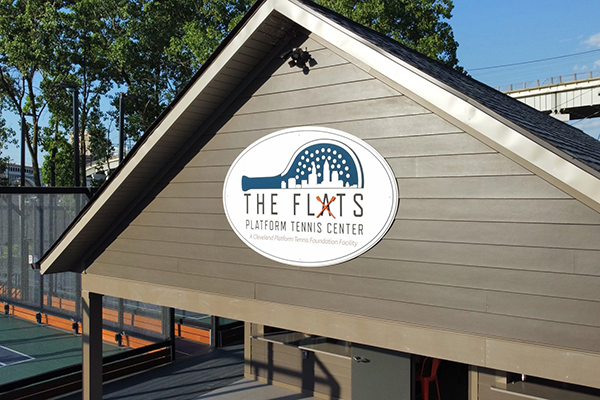 The marathon of creating, financing, building, and opening the Flats Platform Tennis Center is complete, the tape is broken, and the large contingent of Cleveland Platform Tennis Foundation (CPTF) volunteers are showing off the trophy—a one-of-a-kind urban four-court facility. Now it's time to play! The Flats offers innovative (and often free) programming to new players. They have league players thirsty for spring and summer paddle. They have part-time pros spending hours on the court. They offer a mentorship program and a summer camp for disadvantaged youth. They share property with a rowing community—the summer yin to their three-season yang. They are located at the confluence of the east side (paddle rich with 10 clubs) and west side (paddle poor with zero clubs) of Cleveland. Their membership fees are the lowest in the area. In essence, the Flats is the blueprint for all public-access facilities in the pipeline.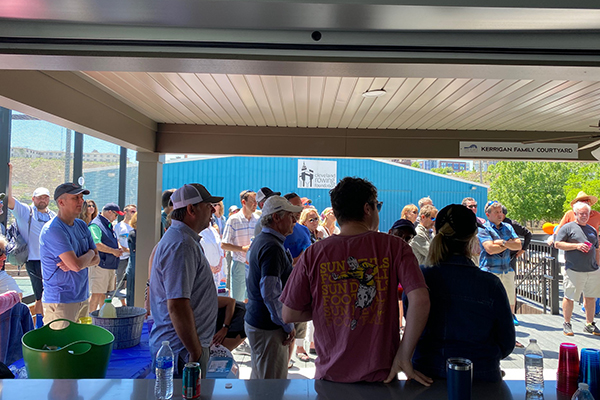 Dedication Day
HONOR THE DONORS
The CPTF honored its 400 donors on Dedication Day in June. Board member Karen Nejedlik explained, "We wanted to bring together our donors and influencers and thank everyone. About 80 people came to watch a few exhibitions and meet each other. It was just a beautiful, festive day. We unveiled our signage for our large donors. The four courts are named for different entities who put up at least $25,000 each. The outdoor patio area and inside the hut are named for families that were large donors and instrumental in the building process. We also framed our mission statement—it is important for people to understand why we needed to build this facility."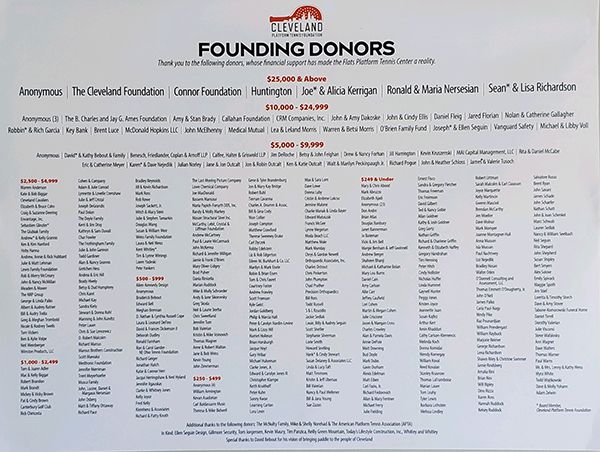 GO BEYOND FOR MEMBERSHIP
The objective from the start was to be the least expensive club in the area. They considered what was a reasonable fee for different age groups. The board then took the budget, looked at costs, and backed into the numbers of what was needed to pay bills and pay off their debt in three years.
CPTF Chairman Sean Richardson said, "The first 30 or 35 people, we could have written their names down before we started building. We knew who the supporters were. What's been very satisfying is the growth from 30 to 110, all people we didn't know or who didn't play paddle, but they're all friends of friends. We reached the target audience of 'How do we expand this game?'"
JUMP INTO THE LEAGUES
Last fall, Flats members (about 50 at that point) were invited to join the Cleveland league, even before the courts were completed, to play away matches. Once the Flats courts opened for play on December 28 (meeting the goal of opening in 2021), they hosted league matches. Nejedlik said, "It was definitely bare bones. No hut, no heaters, no lights, but it all came along quickly after that."
To introduce new members to the popular Summer Paddle League (SPL), run by Brent Luce and Lea Morris, the Flats created "Intro to SPL" that ran for six weeks in the spring. Sebastian Glinzler, a former pro and present board member, organized it, pairing new members with SPL-familiar members. Nejedlik smiled, "Now we have a truckload of people playing in the SPL itself."
GRAB THE NEWBIES
Player programming at the Flats covers all levels, groups, and times, and offers ease of access with their online registration. Nejedlik said, "We offer a series of free four-week learn-to-play clinics and started Beginner 1 in January, three days per week in a few times slots for 12 people each. We could see the players needed more time to become completely entrenched. Our Beginner 2 four-week clinic was free for members and a small fee for guests. They were improving but still need help putting the full game together, so next we started Newbie Nights. We provided a pro who stood between the two courts and coached them as they did live-ball play. That proved successful and booked up right away. We are committed to running free clinics for beginners indefinitely. It is our pipeline to new members and is also part of our mission to remove the financial barrier of this game."
BUILD COMMUNITY WITH THE COMMUNITY
The CPTF sought connectivity with their urban neighbors right away. The hut was designed with a mentorship program in mind—it's affectionally called The Classroom. Richardson explained, "We will be working with multiple groups that already have the kids identified. In June, we had Advantage Cle (an inner-city tennis and mentoring program) come for a day. The kids and counselors were very helpful as we talked about what to do to harness the kids' energy and keep them involved.
"We have our first group coming in July for four days. We have the responsibility for programming more than just on the court. We have two board members who will be there from start to finish every day along with the counselors. Ultimately, we designed this for the after-school crowd. During the school year, we might have up to 32 kids at a time, with 16 on the court, 16 in the classroom, splitting the time."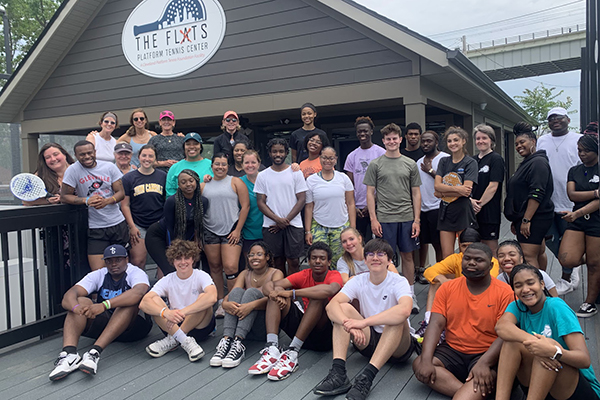 Advantage Cle
SAY YES TO REQUESTS
Programming is their secret sauce. Between the media coverage, a deep contact list, and a very visible club, the phone rings often. Nejedlik admitted, "Every time somebody comes to me with any kind of idea, we always say, 'Yes, that sounds great. Let's do it.'"
The team's response time is swift. They received an email from the president of the Cleveland Professional 20/30 Club, which hosts social and networking events around town, and immediately created a five-visit program. They've been contacted by an executive women's group and an internship program that orchestrates social events for young interns—customized paddle programs are in the works.
"We were brainstorming how to get more members from an apartment building around the corner and someone mentioned paddle speed-dating. We've got all kinds of tricks up our sleeve," Nejedlik laughed. She added, "Everyone who has reached out is one or two people removed. Advantage Cle was a tie-in with a tennis person on our board. Someone from the women's executive group works with Sean."
MAKE USE OF MEDIA AND CONTACTS
Richardson said, "This is a hot project. There's great word of mouth happening, and we've had excellent media coverage. TV stations and print and online media at various stages during the last year and a half are putting us out there. I'll tip the cap to APTA Board Member and Peachtree Paddle Legend Peter Lauer. He told me that the most powerful thing to do is build a contact list. Karen and I have been working on that for three years; we have over 3,000 email addresses that are getting news from us every month. People go down to the river and say, 'This is pretty cool.' The setting sells itself."
The CPTF has a website (cleptf.org) used primarily for fund raising. They now have a second website (flatspaddle.org) for membership and programs. They have over 360 people registered in the court reserve system as guests, which is a pipeline for new members. To keep everyone engaged, the lead volunteers send out "This Week at The Flats."
CONNECT WITH THE APTA
The Flats was awarded the largest grants and loan package ever offered by the APTA, due to their commitment to public-access paddle, the depth of planning, execution, and community support, and their ability to fund raise beyond belief. APTA Executive Director Ann Sheedy said, "Not only does this project align itself perfectly with the APTA's mission to grow the game, but it provides us with a much greater ability to give guidance to others who want to bring public access paddle to their areas. We have already learned so much from them, for instance, the importance of the composition of the Foundation Board. They included a bank president with contacts throughout the local business community, a construction person, an IT person, an architect, a marketing/communications expert, an accountant, a former pro, and so on. They have graciously offered to share their knowledge and all planning documentation in areas such as fundraising, communications, finances, and programming."
Richardson concluded, "This was a marathon. We broke the tape and are overjoyed. It was a long haul!"