Region V News 2007-2008
Chicago League Concludes another Great Season
DAN WILLIAMS
MARCH 15, 2008
GLENVIEW, ILLINOIS
After eighteen weeks of matches involving over 1800 players, the Men's Chicago Platform Tennis League crowned regular season champs at each of the 15 levels of play. The 15 regular season titles were won by 10 different clubs with Sunset Ridge capturing 3 of them.
While it is great to win the regular season, the week that all teams point towards is playoff week; a week of pressure packed playoff matches that culminate with all 15 finals being played on the second Wednesday in March. Finals night is an evening of great paddle and an awesome party with all the participants and hundreds of fans converging on Glen View for a huge party centered on watching the series 1 and 2 finals. As hundreds of cheeseburgers were eaten and thousands of beers were drawn, the fans were treated to some great paddle and some highlight reel shots.
The Series 2 final pitted regular season champ Sunset Ridge, a veteran team led by Peter Berka; against a young, talented team from Hinsdale Golf Club. Sunset Ridge, with solid, consistent play rode victories on the bottom 3 courts to the title. However, as always, these matches are filled with tension. And this match was no different. Due to the closeness of the match, Sunset Ridge's team of Todd Gillis and Dave Garden entered their final set needing to win at least 4 games to secure team victory. Congrats to them for pulling it out.
Chicago's premier division, Series 1, is a league that has 15 players ranked in the top 25 nationally. The final pitted a no-name but deep Glen View team trying to complete the rare double-double of winning the regular season and playoffs 2 years in a row; vs. an Onwentsia team comprised of a mix of great veteran stars and young up and comers. Glen View prevailed in a couple of great matches on court 3 and 4 but still needed to win a couple sets on the top 2 courts. Waiting for them were the teams of Brian Uihlein/Rod Workman and John Hough/Mike Rahaley. The defining match of the series 1 final was court 1; where Glen View's Tad Eckert and Ben McKnight prevailed in a highly entertaining match, gaining their 1 st victory ever over Brian Uihlein, and securing the championship for Glen View.
The whole evening provided a great finish to another great season for the Chicago league. The entire Chicago Paddle community is indebted to those on the CPTC board for their efforts in managing such a great league.
Ed and Pat Usher win Hinsdale Open A Draw
FEBRUARY 24, 2008
HINSDALE, ILLINOIS
Over 150 players competed in six draws in the annual Hinsdale, Illinois tournaments.


Open A Draw: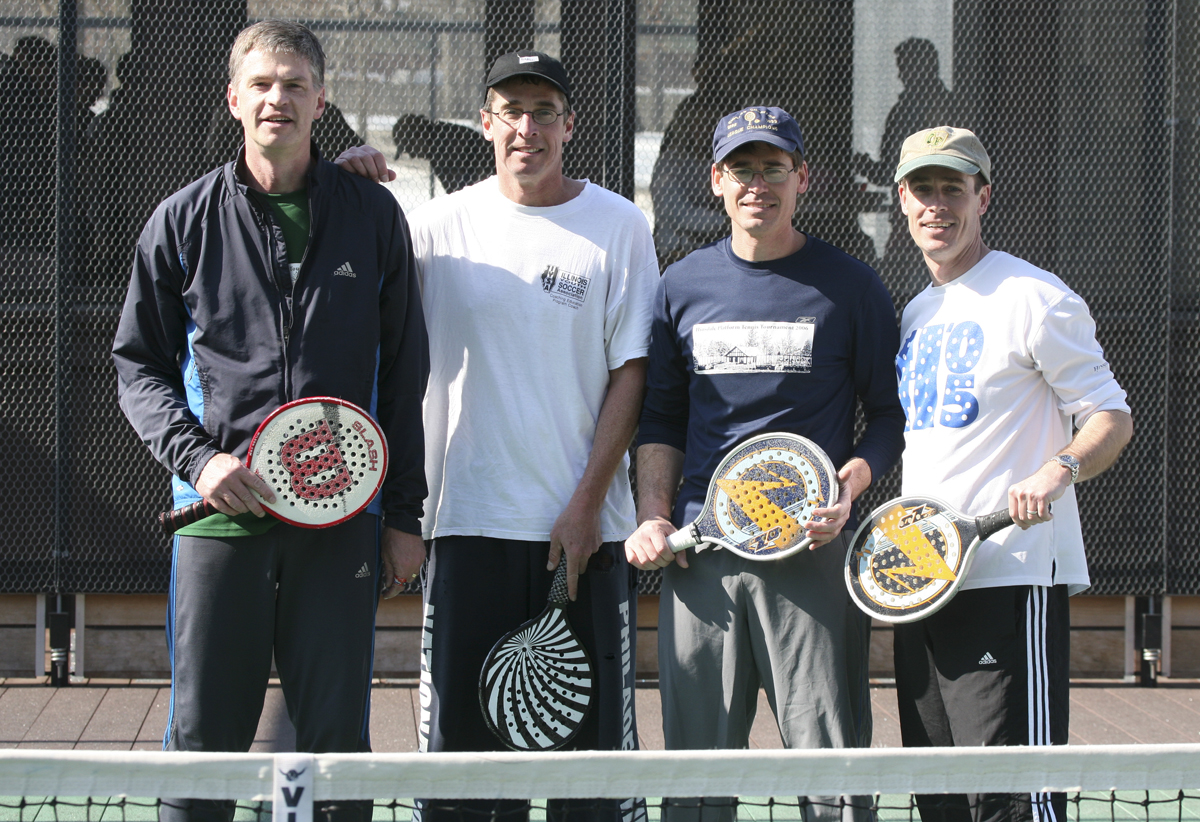 - Finals: Pat Usher & Ed Usher over Paul Wiggin & Danny Williams, 7-5, 6-4
- Quarter-Reprieve winner: Mary Doten & Donn York
- Consolation winner: Terry Wing & Todd Shaefer
- Last Chance Winner: Jorge Pollitt & Clay Leonard



Open B Draw:


- Finals: Bill Busch & Michael Lee over Paul Lozanowski & Jim Schiavitti - 2-6, 6-1, 6-3
- Consolation winner: John Hawn & Marty Brennan
- Quarter-Reprieve winner: Mike Gartlan & Alfie Bingham
- Last Chance Winner: Parker Morris & Reed Shaefer



Open C Draw:


- Finals: Hammon & Jeannin over Hemmer & Spillers, 6-4, 6-3
- 3rd Place: Steve Clausen & Phil Karpik
- Last Chance Winner: Jeff Mohl & Dave Farra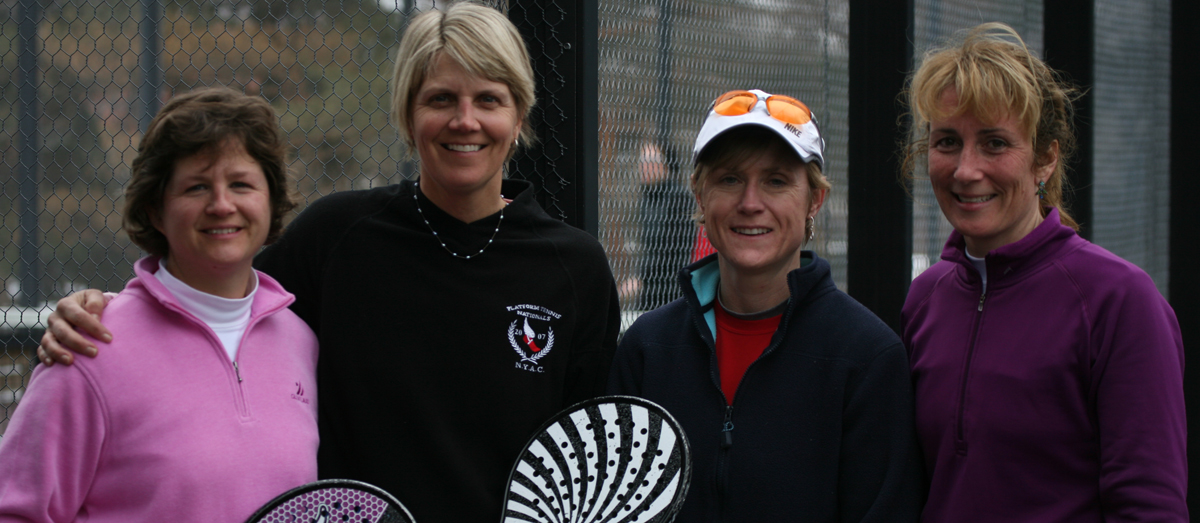 Women's A Draw Finalists
Margaret Hawn and Mary Doten over Holly Tritt and Gillian Climo in championship final.














Joann Williams and Jackie Nelson over MaryLiz Miller and Kristen Klebenow in the championship final.
St. Louis Invitational
BOB CURTIS
FEBRUAY 10, 2008
ST. LOUIS, MISSOURI
The 2008 St. Louis tournament saw a departure from the norm as three-headed monsters appeared, last became first and winds came from the east. An early indicator of the oddities that would take place occurred when Frank Childress announced on the eve of the tournament that he was being called into an 8a.m. Saturday morning meeting.
Complete Coverage
Chicago Paddle Sets a New Participation Record with 143 Men's Teams
BILL O'BRIEN
JANUARY 13, 2008
GLEN VIEW, IL
First, some background. Every year, the Series Tournaments play an important part in Chicago's laddering of tournament opportunities.

The Chicago mens' league has a total of 163 teams spread out over 15 skill levels called Series -- about 1,800 to 2,000 players. And the womens league has a total of 120 teams spread over 12 Series, plus a weekend league -- about 1,500 players. The Chicago Charities Tournament in early November attracts the top men and women players in the country and additionally, provides a great opportunity for Chicago's other Series 1 and 2 players to push themselves in an event in which they can feel pretty competitive. Then, in mid-November, we have the Illinois Intermediates where we try to attract the players just below the top levels.

Finally, we have the Series Tournaments where we are trying to get the Series 4 and lower players to feel confident enough to risk entering a tournament and to feel more a part of our overall community of paddle players. Said another way, we think tournaments are a wonderful experience and we want every player to have a chance to learn that for themselves.
Unseeded Women's Team prevails at the Chicago Charities
PAULWIGGIN
NOVEMBER 5, 2007
GLEN VIEW, IL
Recap of the Women's Draw
The unseeded team of Laura Berendt and Annica Cooper cut a tough path to the Championship in the Charities.

They defeated #2 seeds Kerri Delmonico / Aila 'Main in the finals 7-5, 5-2,
edged out #3 seeds Mary Doten / Susie Keane in the semis 7-5, 4-6, 7-5,
and overcame #1 seeds Sally Cottingham / Chris Sheldon in the quarters 4-6, 6-2, 6-4.

Delmonico / Main reached the finals by beating #7 seeds Keri Flynn / Susan Tarzian 6-2, 3-6, 6-3 in the semis.
Recap of the Men's Draw
#2 seeds David Caldwell / Blake Cordish took the men's draw without dropping a set along the way.

They defeated #5 seeds Chris Gambino / Dave Ohlmuller in the finals 6-3. 6-3,
beat #6 seeds Dave Keevins and Brian Uihlein 6-5, 6-1 in the semis,
beat #7 seeds Peter Berka and Ed Granger 7-5, 6-3 in the quarter-finals.

Gambino / Ohlmuller reached the finals by beating Bill Fiedler / Mike Marino 6-3, 6-3 in the semis. Fiedler / Marino took out #1 seeds Mike Cochrane / Scott Estes 6-4, 6-4 and edged out #8 seeds Scott Bondurant and Mark Johnson in the quarters in a three setter 4-6, 6-3, 6-4.
Sally Cottingham and Chris Sheldon prevail in Milwaukee Open
Milwaukee Open Women's Draw
October 19, 2007

#1 Copttingham/Sheldon (bye)
Hartline/Halstead vs Vinson/Broccolo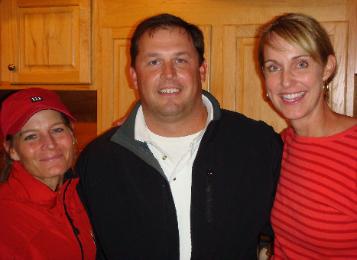 Batten/Magrini vs Jones/MacKinnon
#4 Williams/Hoch vs Duman/Biegert

#3 Hayward/Ohlmuller vs Tritt/Goode
Martin/Farley Green vs Boyle/Frauenheim

McPherrin/Goldberg vs Tanner/Maguire
#2 Doten/Klauke (bye)
Premier Cup Played through the Heat
JOHN STANHAUS
OCTOBER 7, 2007
On a weekend which saw the Chicago Cubs World Series hopes crashed for the 99th time, and the Chicago Marathon halted due to excessive heat, Chicago platform tennis enthusiasts were treated to warm weather paddle at its most extreme as the Premier Cup came to Chicago.

The Premier Cup, the brainchild of David Dodge & Jason Gray was started as a way to promote interest in platform tennis. David has been closely linked to the game through his company, Premier Platform Tennis, which has been involved in the construction & maintenance of platform tennis courts since 1998. The third rendition of the Premier Cup brought eight of the top ranked teams from the 2006-07 season to Chicago to compete for the $5,000 of prize money put up by Premier Platform Tennis. The eight teams played a single set round robin format over the course of seven hours in 80+ degree heat on Saturday to establish the draw for the money rounds on Sunday.

Sunday's semi-finals saw the two top teams from 2007 facing off against the champions of the first two Premier Cups in record heat of 87 degrees. The cagey veterans of warm weather paddle were able to hold off the young lions of the sport for one more October. In the first semi- final, defending Premier Cup Champions, Bill Fiedler/Mike Marino defeated 2007's #1 ranked team of Mike Cochran/Scott Estes, Jr. (4,1). In the other semi- final, the inaugural Premier Cup Champions, Flip Goodspeed/Scott Mansager defeated 2007's #2 ranked team of David Caldwell/Blake Cordish (5,6).

In the finals, Goodspeed/Mansager defeated Fiedler/Marino (1,2) to become the first two time Premier Cup champions, while Cochran/Estes defeated Caldwell/Cordish in a third set Super tiebreaker for the third place prize money.

The real winners were spectators at the Saddle & Cycle Club, host site for the 2007 event, who witnessed top flight platform tennis in its most complex form. The incredible racket skills of a Caldwell or Cochrane were matched by the incredible hands and positioning of a Fiedler or Gambino; and at the end of the day the experienced platform grandmasters demonstrated how one can combine discipline, intelligence and racket skills, to prevail under extreme conditions against the best in the game. More than one spectator was overheard saying I'd like to try this game., which really is the objective of the Premier Cup.