Region VII News 2010-2011
2011 Tar Heel Men's Results
FEBRUARY 12, 2011
CHAPEL HILL, NC

Congratulations to Jerry Albrikes and Peter Harvey for their victory in the 2011 Tar Heel Men's Platform Tennis Tournament. They defeated Forrest Rich Green and Rich Brown in the final.
Peter Berka & Drew Eberly Pick up the Peachtree Invitational
JANUARY 24, 2011
ATLANTA, GA

Peter Berka and Draw Eberly followed up their 2nd place finish at the Midwesterns by capturing the the 6th Annual Peachtree Invitational in Atlanta. They defeated Mike Cochrane and Brian Uihlein in a 6-2, 6-2 final.
Complete Coverage
Hall of Famer Hank Irvine Gives Lessons at The Villages
DECEMBER 21, 2010
THE VILLAGES, FL

Hall of Famer Hank Irvine took some time out to visit the Villages in Florida, where platform tennis is a new and popular addition to a seriously sporting retirement community.
Full Story
The APTA Visits Tar Heel Territory
BRAD EASTERBROOK
OCTOBER 10, 2010
CHAPEL HILL. NC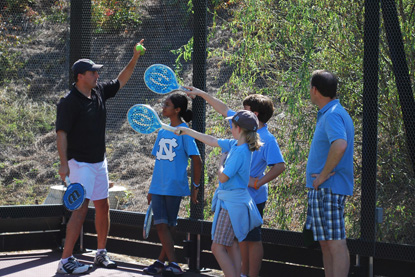 The Date: October 10th
The Time: High Noon
The Place: Chapel Hill, North Carolina
The Mission: Spread the Word of Paddle
The Ambassadors:
Anton "the Big Russian" Mavrin
Mark "I Eat Pulled Pork for Breakfast, Lunch, and Dinner" Fischl
Johan "Opulence" DuRandt
Brad "the Bradford" Easterbrook
Nestled underneath the brick façade of an Athletic Building on the University of North Carolina Campus approximately one hundred yards from the Dean Dome Basketball stadium sits an unlikely sight; three platform tennis courts. On October 10th, an even more unlikely sight occurred; all three courts filled to capacity, four pro ambassadors teaching clinics, spectators watching from outside the cages, and passersby stopping to wonder what all the hoopla is about.
Complete Coverage and Slide Show
Premier Cup Heads South to Richmond
RICHMOND, VA
AUGUST 31, 2010

The greatest players currently in the game of platform tennis will be heading to historic Richmond, Virginia this October 15th-17th for the 2010 Premier Cup.
In its 6th year, this event showcases the top 8 teams from all over the country and will be making its first ever trip to the south converging on The Country Club of Virginia. More