Peter Hantack and Garrett Gates Win St. Louis Open Invitational
February 7, 2022
St. Louis, MO
2022 St. Louis Open Men's NRT Final Results (doc), (pdf)
2022 St. Louis Men's Masters 110+ Final Results (doc), (pdf)
Tournament Director Alan Douglas writes: In its 30th year, the St. Louis Open Invitational NRT was held February 4-6. A deep field of 32 teams competed at Bellerive Country Club, Creve Coeur Racquet Club, Racquet Club Ladue and host St. Louis Country Club. A special thanks to the staff at these clubs for getting the courts playable by 12:00 PM Friday afternoon for the 110s event, after an ice storm and 10 inches of snow the day before. Their hard work let us move on with the tournament.
Men's Open Draw
Congratulations to Peter Hantack and Garrett Gates in taking a hard-fought win over Graham Battle and Ian Hintz, 5-7, 6-3, 6-4. Hantack/Gates were not going to be denied after dropping the close first set to Battle/Hintz. Local pro Hantack at his home club brought his best paddle game to mount a comeback with KC partner Gates to take the championship. Battle/Hintz had defeated locals Ryan Dickherber and Micheal Laycob in the semis while Hantack/Gates defeated the father-son team of Bob and Charlie Curtis in the other semifinal.
Dick Baldwin 110+
The St. Louis team of Frank Childress and Frank Sant had to go the distance to take the Dick Baldwin 110+ event on Friday afternoon. Featuring our deepest draw in many years, team Frank defeated Kirk Baldwin and John Hereford, 6-1, 2-6, 6-3 to take the title. Tournament legend Dick Baldwin was present to hand out the awards and promised to be competing again next year. Dick has been playing in this event since the event first started.
Thank you to all the players who exemplified tremendous sportsmanship and camaraderie throughout the weekend. We enjoyed a wonderful party Saturday night provided by Troy Duncan that included outstanding food, plus Golden Tee, Big Game Hunter, darts, pool, ping pong, and bags. Can't wait for 2023!
The APTA thanks Tournament Director Alan Douglas, host St. Louis Country Club, Bellerive Country Club, Creve Coeur Racquet Club, and Racquet Club Ladue for their courts, the volunteers, the snow crews, and all the players.
OPEN RESULTS
Main Draw: Peter Hantack/Garrett Gates def. Graham Battle/ Ian Hintz, 5-7, 6-3, 6-4
Quarterfinal Reprieve: Charlie Howard/Dennis Nevolo def, Matt Timme/Steve Wohlford, 6-2, 6-4
16 Reprieve: Peter Gunther/Mikhail Rasner def. Mike Anzalone/Travis Hienemann, 3-6, 6-2, 10-3
16 Reprieve Also-Ran: David Beck/Cliff Marsland def. Tom Fluri/Mark Jeffry. 6-3, 6-7, 10-8
Consolation: David Bremer/Ted LeMatty def. Mike Carr/Frank Sant, 7-5, 6-2
Consolations Quarter Reprieve: Larry Martin/Mikael Thygesen def. Greg Marifian/Mark Marifian, 5-7, 6-3, 10-4
Consolation 16 Reprieve: Michael Lesko/Chris Salaveria def. Brett Gamso/Damien Janet, 6-7, 6-3, 10-7
Last chance: Bruce Erickson/Mike Nogalski def. Dustin Kramer/Richard Ness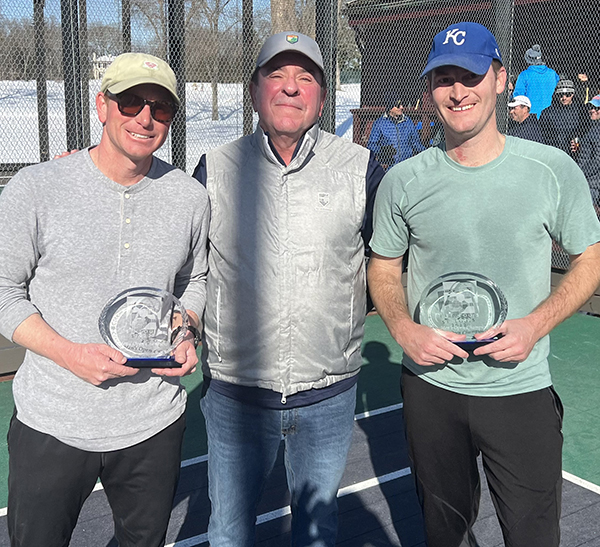 L to R: Winners Peter Hantack/Garrett Gates with TD Alan Douglas
DICK BALDWIN MEN'S 110+ RESULTS
Main Draw: Frank Childress/Frank Sant def. Kirk Baldwin/John Hereford, 6-1, 2-6, 6-3
Consolation: Andy Sareyan/Robert Thompson def. Troy Duncan/Billy Georges, 7-5, 6-4
Consolation Reprieve: Peter Gunther/Richard Randall def. Peter Forsee/Jeff Meunier, 6-2, 6-0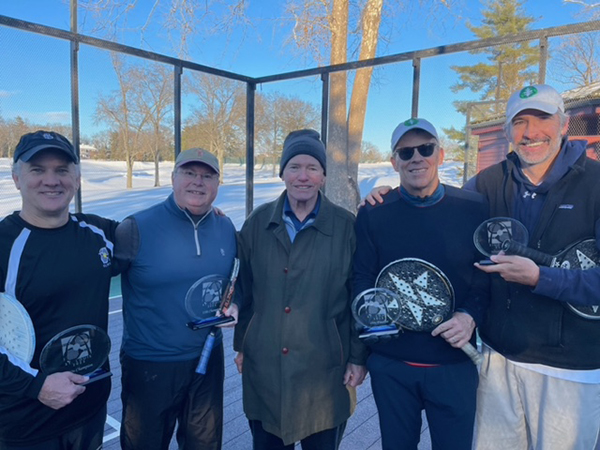 L to R: Winners Frank Sant/Frank Childress, Tournament Legend Dick Baldwin, Finalists John Hereford/Kirk Baldwin