2009 APTA National Championships Results
Sunday, March 8 Saturday, March 7 Slide Show Friday, March 6
News from the Hut President's Cup Coverage President's Cup Teams Slide Show
Scott Mansager & Flip Goodspeed - 2009 APTA National Champions!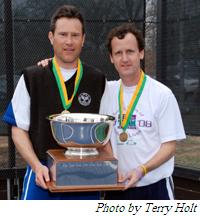 What would be a good way to finish up the season after being inducted into the Platform Tennis Hall of Fame, winning the Men's Senior 45+ title, and securing the number one positon in national rankings? How about an 8th National Championship title. That's exactly what Flip Goodspeed of Grand Rapids, MI and Scott Mansager of Chicago, IL did. On a windy day with a touch of rain they defeated Alex Bancila of Glen Cove, NY and Brad Easterbrook of Stamford, CT 6-7, 6-3, 6-4 and put an exclamation point at the end of an outstanding year.
Title Stats:
First: 1996 Total: 8 Finalist: 3 Other: Hall of Famers, Senior titles
Longest: 1997 at 1-6, 6-3, 14-12 Shortest: 1999 at 6-0, 6-1

Mary Doten & Susie Keane - 2009 APTA National Champions!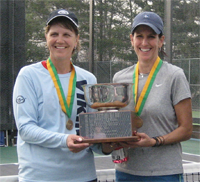 Mary Doten of Hinsdale, IL and Susie Keane of Grosse Pointe Farms, MI overcame defending champions Cindy Prendergast of Wilmington DE and Lauren Zink of Lancaster, PA in an exciting 3 set match. Enjoying the gorgeous but windy 70 degree weather the spectators were treated to an amazing display of athleticism and power. The first set was an evenly matched and aggressive spectacle. All four ladies brought their best games, and Doten & Keane won in a tie-break. In the second set Prendergast & Zink pulled out to a wide early lead of 5-0 and ended up bringing it home 6-3. Then, as often happens in this sport, the tide turned and 4 time champs Doten & Keane took the 3rd set from the defending champs 6-1.
Title Stats:
First: 2003 Total: 5 Number of different opponents: 4 teams
Congratulations to all the winners!
O'Connor-Parsons
Qtr Reprieve

Moore-

Broderick


16 Reprieve

English-Heil
32 Consolation

Power-

Pierce


Consolation

Dow-Sherer
Last Chance

Dardis-Shay
Quarter Reprieve

Queenan-Schwartz
Consolation

Jaffe-Rudloff
2nd Consolation

Rabuse-LeFevre
Last Chance

Cottingham-Hayward
16 Reprieve

Many thanks to the Tournament Committee for putting on an outstanding Nationals.
| | | |
| --- | --- | --- |
| Todd Ward - Tournament Chair | Aggie Boswell - Tournament Coordinator | Vallie Geier - Housing |
| Nancy Budde - Co-Chair | Dan Mott - Men's President's Cup | Jerry Wahl - Hut Commander |
| Mark Kebe - Draws | Heather Prop - Women's President's Cup | Kathy Allen - Head of Retail |

Sunday, March 8
Men's Semis and Finals
The final day of the APTA National Man's and Women's Championships was focused on the late rounds of the men's draw. In contrast to the beautiful sunny Saturday, the Men's semi-finals and final matches on Sunday were played under threatening skies and wind gusts that made every lob a bit of guesswork.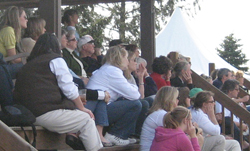 The highlights were the main draw events at Kenwood Country Club, tournament central. In the semi-finals #4 seeds Alex Bancila and Brad Easterbrook defeated #7 seeds Mike Marino and Mike Stulac, and #1 seeds Flip Goodspeed and Scott Mansager defeated #3 seeds Steve DeRose and Jon Lubow.
In the finals both teams played patiently in the wind, carefully waiting for their chance to attack. Soft overheads, were mixed with slashes and spins. Booming drives were countered by soft hands again and again. As in the women's final, the first set went to a tie-break. Bancila and Easterbrook won that set, but Goodspeed - Mansager took the next 2 sets 6-3, 6-4, grabbing yet another APTA Men's Open National Championship title.

Saturday March 7
Women's Late Draw and Men's Tournament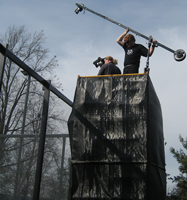 In some ways, the Nationals is like any other tournament. There are draws, favors, reunions with friends, good lunches and the highs and lows of personal performance. But the Nationals is also something very different. There are temporary courts and a camera tower. Every hut has monitors and exra balls. There's a merchandise tent, lots of sponsor banners and multiple parties. A masseuse works tired muscles. The finals play to big crowds. And at the Nationals the "thrill of victory" and the "agony of defeat" are just that much more intense.
Locals Heather Prop & Lynn Schneebeck (#5 seed) had defeated Delmonico-Main (#3 seed) in a 3 set quarter final Friday, giving fans a chance to root for the home team in the semis. The Cincinnati fans pulled for their team, but in the end opponents Doten & Keane (#2 seed) were the ones to move to the finals. The other semi was an east coast battle between long time partners Bobo Delaney & Tonia Mangan (#4 seed) and defending champs Prendergast & Zink (#7 seed).
The crowds grew throughout the day as the men joined the women. By the time the women's final went on at 3:00 the hut at Kenwood was impossibly loud and boisterous and spectators filled all available seating. Fans got what they had come for in an exciting final that ended in a 5th title for Mary Doten and Susie Keane.
The men spent the day working their way through the draws, looking for the coveted finals slots. Of the 16 seeded teams, 14 made it to the round of 16. English-Heil (6) and Albrikes-Jonason (15) lost in the round of 32, with English-Heil going on to win the 32 Consolation. In the round of 16 unseeded Mark Parsons and Brian O'Connor, who had won over Albrikes-Jonason, defeated #2 seeds Mike Cochrane and Scott Estes in 3 sets. They lost to Marino-Stulac in the semis but went on to win the quarter reprieve. The other quarter finals saw Bancila-Easterbrook over Dave Keevins and Brian Uihlein, DeRose-Lubow over Ben McKnight-Peter Rose and Goodspeed-Mansager over John Schmitt-Dan Rothschild.

2009 Nationals Slide Show

Friday, March 6
Women's Tournament

The bulk of the women's tournament was played Friday. Play started at 8 am and ran reasonably on time, with the last quarters finishing up just before 6 pm. The weather was warm and windy like Thursday, with overcast skies.
All the seeds passed through to the quarter finals and the growing audience was treated to exceptional paddle on all sides. On the permanent courts, spectators watched the Delmonic-Main/Prop-Schneebeck match as well as the Ohlmuller-Sheldon/Delaney-Mangan match, sitting on chairs and benches on the wide platform around the fire pit. At the back side of the hut, where there is large covered porch, the Dardis-Shay/Prendergast-Zink and Budde-Welscher/Doten-Keane matches were played on the temporary courts installed over Kenwood's tennis courts. The play was inspiring, and was a fascinating show of the different skills and styles of the players.
One spectator was overheard saying "Why would you want to be playing when there's paddle like this to watch?" while another was asking "Doesn't watching this make you want to go play?" It's likely that more regular players would answer yes to the second question.
At the end of the quarters #7 seed Prendergast-Zink, #4 seed Delaney-Mangan, #5 seed Prop-Schneebeck and #2 seed Doten-Keane advanced to tomorrow's semi-finals.

Friday, March 6
News from the Hut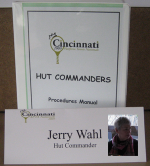 Behind every well-oiled tournament is a big staff of volunteers and a small staff of leaders who know how to run the show. Here at the Nationals one of those people is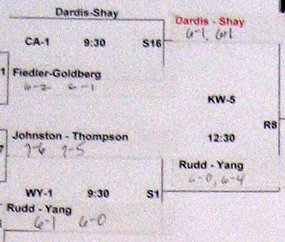 Jerry Wahl. She is in charge of the hut volunteers and has set up her headquarters at Kenwood Country Club, tournament central. Jerry is modest about photos but we did manage to sneak in a small photo of her with her Procedures Manual. This manual is a gold mine of information about how to run a hut effectively.
A few things she does to make hut monitoring easier: pre-printing name labels to stick on the big draw sheets (look at the photo - do your draws look like this?); providing procedures manuals to each hut; using a highlighter to mark completed rounds on her master draw. It's a combination of art and science.

Thursday, March 5
Men's and Women's President's Cup
What is the President's Cup? You are excused if you don't know the answer to that question.
The President's Cup has been a part of the APTA Nationals for years, and is a hotly contested event, but there are few people outside of die-hard tournament players who know what it is. It was established in 1978, when the sport was becoming professionalized, as a national competition for amateur players. It's success kept it going after money left the sport.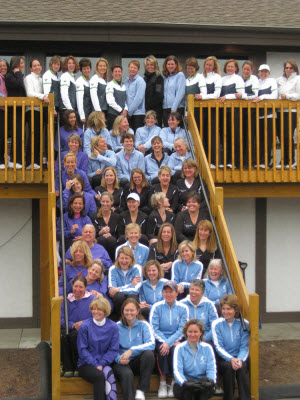 Each region fields a set of teams based in large part on President's Cup Qualifier points accumulated at regional tournaments. Players seeded in the top 8 nationally may not participate but otherwise each region fields the strongest players it can. Sometimes a region cannot field a complete team and players are borrowed from other regions to fill out the roster, or two regions may combine to form one team.
The President's Cup is a grueling day long round robin event. Each region's #1 team - "line 1" in Cincinnati parlance - plays a round robin match with the #1 team from each other region. #2 plays the other #2s, and so on. This year each team fielded 5 teams. The matches are best 2 out of 3, with no-ad scoring and a tie breaker played as the third set. Early rounds are played at various clubs, and everyone comes together at a home club for the final round.
Here's the fun part. Everyone who plays President's Cup also must play in the Nationals, so after playing 5 matches one day, everyone goes right back out to play a full tournament starting the next day. That's a lot of paddle! That's a lot of sore muscles. But many of the President's Cup players are old friends who gather together each year for this special event. They get to spend a lot more time together on and off the court than they would in the regular course of a tournament, playing opponents of similar ability and pushing their games while vying for regional bragging rights and claim to the big silver cup.
2009 President's Cup
This year both the men and women played for the President's Cup on Thursday, March 5. The weather was unseasonable warm (60s), dry and generally overcast. It would have been the perfect paddle day except for the wind. Sponsor banners were flapping and lobs were being pushed and pulled.
Women
At the women's event Regions 1, 4 and 5 jumped into early leads with sweeps over their opponents. The following three rounds moved Regions 4 and 5 into a tight fight for the cup. After the 4th round Region 4 was ahead by one match, 18 to 17. They were scheduled to play each other in the final round so whoever won at least 3 courts would clinch victory (tie going to the winner of the head to head round).
The women's matches were running late. As the fifth round started, spectators gathered around the fire pit to watch matches while Heather Prop, coordinator of the women's President's Cup this year, steered teams to available courts, worried about losing the one unlighted court to the darkness, hustled women through quick "5 minutes only" warm-ups and kept a close eye on wins and loses. There was a lot of talk about getting to dinner and adult beverages. Region 5 fought hard, with one player soldiering on despite an earlier round forearm injury, but in the end Region 4 prevailed.
Region 4 won the cup for the 4th time in 5 years, lengthening their winning streak to 3 in a row. Congratulations Region 4 women!
Women's score sheet. Click here to open a printable results sheet.
Women
Round 1
1 vs 2C, 3 vs 4
5 vs 6
Round 2
1 vs 4, 2C vs 6
3 vs 5
Round 3
1 vs 5, 3 vs 6
2C vs 4
Round 4
1 vs 3, 2C vs 5
4 vs 6
Round 5
1 vs 6, 4 vs 5
2C vs 3
Totals
Region 1
5
2
2
3
5
17
Region 2C
0
4
0
0
2
6
Region 3
0
1
4
2
3
10
Region 4
5
3
5
5
4*
22*
Region 5
5
4
3
5
*
17*
Region 6
0
1
1
0
0
2
* The match in Round 5 between Regions 4 and 5 was not completed once Region 4 clinched the President's Cup.
Men - by Dan Mott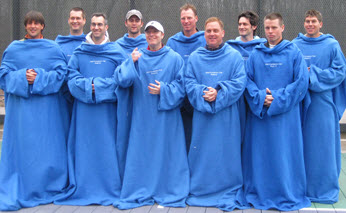 Region 1 Men are the 2009 Presidents Cup winners as the Platform National weekend kicks off in Cincinnati. In a four region race to the end the Men from Region 1 finished with 19 match victories. Region 5 and Region 4 each had 17 match victories. Two time defending PC winners, Region 2 finished with 14.
The warm windy day was filled with close three set matches with many new President Cup players from all regions. The Region 1 team was captained by Mike Cochrane. Mike's onsite co-captain Ray Crosta led the team of Drew Broderick/Guy Moore, Brian O'Connor/Mark Parsons, Juan Arraya/Mark Ruppert, Chris Fitzgerald/Scott Slobin and Patricio Misitrano/Mike Stern. Congratulations to Region 1.



2009 APTA President's Cup Slide Show - Photos by Ann Sheedy