Matt Hane and Hunter Koontz Regain Title at Games on the James
December 8, 2021
Richmond, VA
2021 Games on The James Men's NRT Final Results (doc), (pdf)
Tournament Director Rob Oakes writes: "Saturday, December 4, began with a buzz about teams coming in from out of town—New York, Connecticut, Baltimore, Charlotte, Charlottesville, Atlanta—but ended with a different story. As the afternoon unfolded, only one seeded team advanced to the quarters and none to the semis, leaving three Richmond teams in the semifinals. Semifinal #1 saw the team of Chris Snow and Charles Valentine (Richmond) try to take down 2019 Champions Matt Hane and Hunter Koontz (Richmond). Hane/Koontz were just a little bit stronger, winning 6-4, 6-3, to advance to the final. Semifinal #2 pitted Peyton Lawson and John Snead (Richmond) against Drew Courtney and Eric Pearson (Charlottesville), with Lawson/Snead advancing by the same score of 6-4, 6-3.
The final, which in some ways felt more like league night in Richmond, was not short on drama. Hane/Koontz started off the match flat, complicated significantly by Snead's aggressive play and flawless volleys—first set to Lawson/Snead, 6-2. The second set was much of the same with Lawson/Snead jumping out to a 4-2 lead, the finish line in sight. After holding quickly for 3-4, Hane/Koontz came to life for the first time all match, breaking Snead for 4-4. Lawson/Snead had one more good chance, a 15-40 lead on Hane's serve in the next game, but after Hane held for 5-4, they claimed the second set to force a one-sided third set. In the end, Hane/Koontz claimed their second Games on the James title in three years, 2-6, 7-5, 6-2. Congrats to all players on a great day, hope to see you next year!"
The APTA thanks Tournament Director Rob Oakes, host Country Club of Virginia, and all the players who competed well.
RESULTS
Main Draw: Matt Hane/Hunter Koontz def. Peyton Lawson and John Snead, 2-6, 7-5, 6-2
Quarter Reprieve: Will Beck/Nobuyoshi Tanaka def. Neville Brodie/Moutray McLaren, 6-4, 6-3
Consolation: Kevin Rotty/Andy Todd vs. Paul Burgin/Mike Cobb Jr.
Consolation Reprieve: Blake Gayle/Clint Greene def. Matt Magner/Steven Wright, 6-0, 6-3
Last Chance: Marc Boyko/John Colan def. Ty Crone/Todd Oney, 6-2, 6-1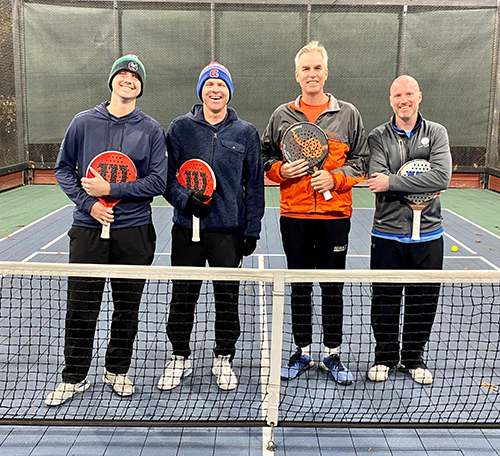 L to R Winners Hunter Koontz/Matt Hane Finalists Peyton Lawson/John Snead