Illinois Married Mix has Record Number of Couples
April 28, 2023
Evanston, IL
The 2023 Illinois Married Mixed on Saturday, April 15th saw record highs not only in terms of temperatures (lower 80's!) but also in the number of couples competing in this year's tournament. In all, 171 teams vied for the title in 11 different flights, beginning the day in the unseasonably blazing noon-time sun. In the end, the champions and runners-up were as follows. Congratulations to them all!
| Draw | Champions | Finalists |
| --- | --- | --- |
| A1 | Lisa & Gabe Korach | Rachel & Rob Young |
| A2 | Lauren & Darryl Silverman | Lisa & Kevin Kahley |
| B1 | Gina & John Holton | Taryn & Brett Stein |
| B2 | Ashley Randazzo & Joe Condon | Nicole & Steve Petsos |
| B3 | Alexa & Aaron Colin | Carolyn & Danny Caruso |
| C1 | Jiyeon & Mark Owens | Jessica & Lee Cohen |
| C2 | Tori & Mark Kramer | Anne & Joe Hoffer |
| C3 | Katarina & Tim Keneally | Molly & Paul Bockwoldt |
| D1 | Maggie & Tony DePalo | Molly & Jamie Silverman |
| D2 | Jacqueline Henderson & Hank Adams | Melissa & Matthew Solomon |
| D3 | Libby & Ross Holdren | Mary & Jim Langhenry |

Winners Gabe and Lisa Korach, Finalists Rachel and Rob Young
New to this year's tournament was live streaming of A1 flight matches provided by Chicago's own CPTC LiveStream crew. Take a look at some of the action by clicking here to view their YouTube page or HERE to view the A1 championship match.
Also new to this year's tournament was the host site, Evanston Golf Club, and a contest to determine the best team uniform or costume. With the beautiful summery conditions, Evanston GC's brand new paddle facility and accompanying outdoor space proved to be the perfect venue. As for the costume competition, many couples rose to the challenge with not only how they dressed but by also fulfilling the requirement of playing at least one entire match in costume. In the end, Karen and Joe Fusco came away with top honors dressed appropriately as bride and groom (he in vest and bowtie and she in all white with tutu and veil) ready to renew their vows if the mood struck them after play was done. Take a look at the tournament's slide show to see more of the amazing venue and amusing outfits.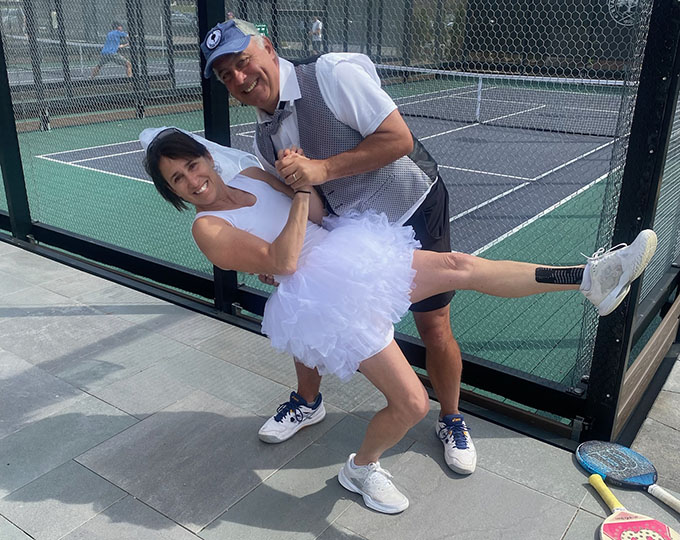 Karen and Joe Fusco
All profits from the tournament went directly to Connections for the Homeless, a phenomenal charitable organization servicing the North Shore's homeless community in a multitude of ways and based out of Evanston, IL. Learn more about Connections here.
A big thank you goes out to the multitude of volunteers that helped pull off this huge event. Thank you to the tournament's sponsor, Volley, as well. Finally, a big thank you to all of the clubs and paddle pros that gave the tournament access to nearly 100 courts! This day wouldn't be possible without you all!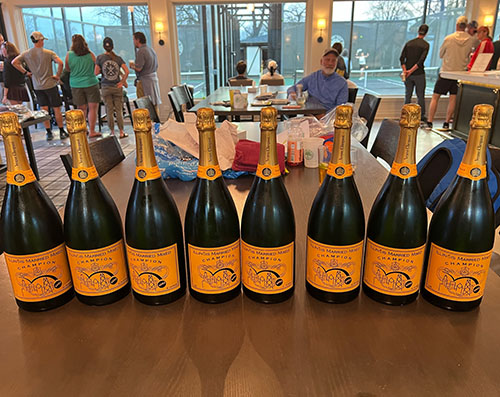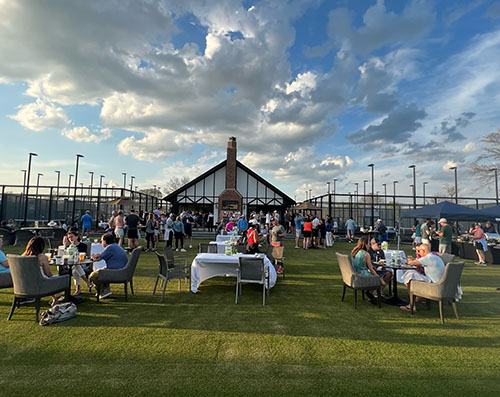 Evanston Country Club
More photos