The Midwesterns NRT Recap
January 17, 2022
Cincinnati, OH
2022 The Midwesterns Men's NRT Final Results (doc), (pdf)
2022 The Midwesterns Women's NRT Final Results (doc), (pdf)
Hyde Park Golf and Country Club hosted 20 women's teams and 36 men's teams for The Midwesterns NRT, the eighth stop on the 2021-2022 APTA TOUR. The women's tournament was a one-day affair on Friday—under cloudy skies and cool temperatures. The men started on Saturday and finished Sunday afternoon before a major snowstorm rolled in.
WOMEN
The top four seeds met in the semifinals. Only Kari Falls and Denise Murphy (4) had three-setters along the way. The rest of the field, Annica Cooper and Myrthe Molenveld (1), Spencer Caravaggio and Alison Morgan (2), and Marie Matrka and Heather Prop (3), played short and steady matches to reach the semis. Caravaggio complemented Morgan well, using Morgan's deep lobs as an opportunity for a strong drive. The top two seeds prevailed and met at 5:00 PM for the finals.
The first set went quickly to Cooper/Molenveld, 6-0, who dominated with their strong net play. The second set was much closer, with Caravaggio/Morgan slowing down the pace, but they could not capitalize on some game points they very much needed. Cooper was exceptionally solid, and as a team with Molenveld "they force you to get out of your natural pattern of play," said commentator Patty Hogan. Cooper/Molenveld won 6-0, 6-4.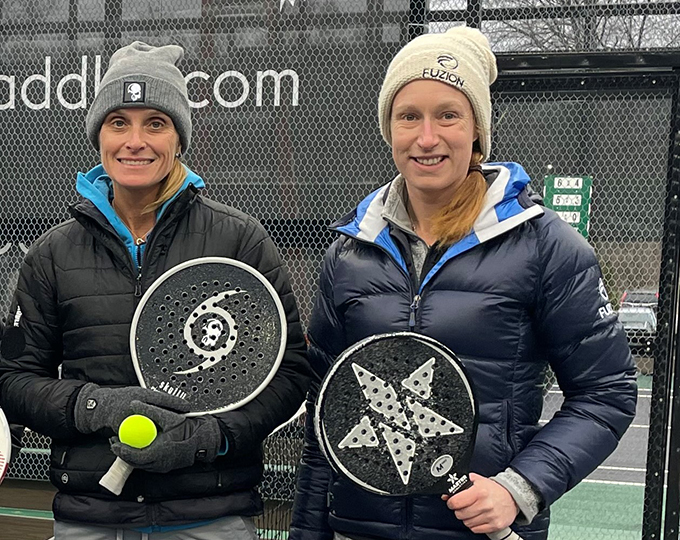 Winners Annica Cooper/Myrthe Molenveld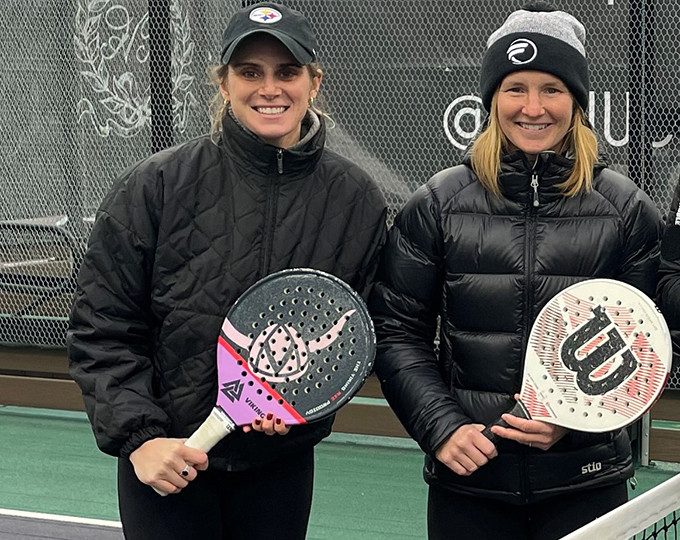 Finalists Spencer Caravaggio/Alison Morgan
MEN
The quarterfinals didn't have any surprises, except in the Tyler Fraser and Adam Morgan (2) versus Edwin Lewis and Wil Lofgren match. At 5-2, after Fraser served at 4-2, the teams switched sides and Morgan served for the set. No one on the court realized the mistake and the game stood as played.
All four top seeds made the semifinals, with Fraser/Morgan handling Filip Rams and Casey Watt (4) 6-1, 6-1, and Juan Arraya and Graham McNerney winning against a solid Nathan Crick and Randy Lofgren (3) team, 6-3, 6-1.
The final was a refreshing surprise, going to three sets. Fraser/Morgan came out ready for a fight and Fraser's blitz was very effective, gaining the first set at 6-3. While Arraya and McNerney rarely, if ever, play together, they communicated well and had excellent court coverage, winning a tight second set at 6-4. The third set started with a McNerney around-the-post winner, and Arraya/McNerney took home The Midwesterns trophy with a final set of 6-4.
Thank you to Tournament Directors Heather Prop and Mark Kebe, host Hyde Park Golf and Country Club and staff, Camargo Club, Cincinnati Country Club, Coldstream Country Club, Four Bridges Country Club, Glendale Lyceum, Indian Hill Winter Club, Kenwood Country Club, Maketewah Country Club, Terrace Park Country Club, and Wyoming Country Club for courts, Tour Director Karen Nejedlik, all the volunteers, the fans, and the players who competed well.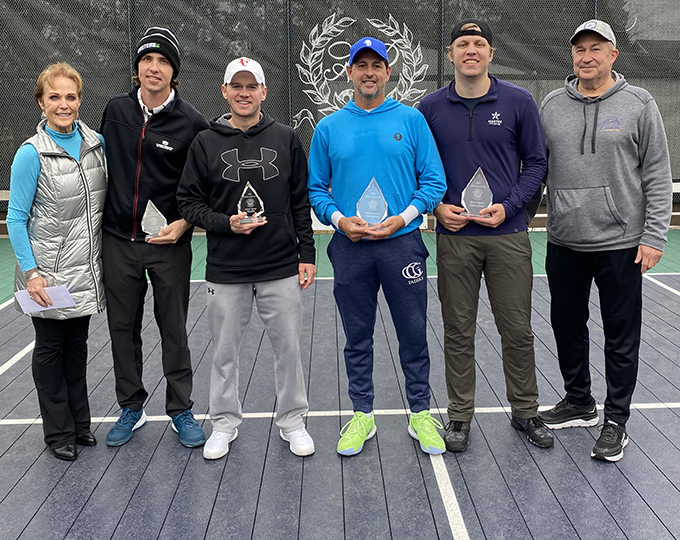 L to R: TD Heather Prop, Finalists- Tyler Fraser/Adam Morgan, Winners -Juan Arraya/Graham McNerney, TD Mark Kebe.