2022 Peachtree Invitational Recap
February 22, 2022
Atlanta, GA
2022 Peachtree Invitational Men's Final Results (doc), (pdf)
2022 Peachtree Invitational Women's Final Results (doc), (pdf)
Jeronie Barnes and Dane Schmidgall Roll at Peachtree Invitational
Chicago's Jeronie Barnes and Dane Schmidgall rolled into the finals well-rested and bested Connecticut's Jerry Albrikes and Dan Hansen, 6-3, 6-3 for the men's title.
Sydney Berens and Sally Jones Champs in Women's NRT
Chicago's Sydney Berens and Sally Jones fought off a momentum shift against Cathy Ackerman (CT) and Katrina Driscoll (MA), 7-5, 4-6, 6-3 to bring home the trophy.
Tournament Director Peter Lauer writes: Our thanks to 50 teams from 14 states competing at the 17th Annual Peachtree Invitational. Also, thanks to our many volunteers, Bruck Dickson, Dawn Mullican, Didi & Rob Chapdelaine, Michael Watson, Nancy Miller, Tim Noonan, Carolyn Shiverick, Marcia Mayoue, Katie Crenshaw, Rena Lyle, Bill Barney, Ann Gieryn, Allen Nelson, Bob Cramer, KC Kadow, Dick Eydt, Semmes Van Brocklin, and Christy Harris. Finally thank to our great tournament sponsors, The Refinery, First Horizon, Peachtree Investment Partners, ULINE, Wilson, along with many others.
The APTA thanks Tournament Director Peter Lauer, host Cherokee Town and Country Club, Bitsy Grant Tennis Center, East Cobb Swim & Tennis, Pienmont Driving Club, and Windward Lake Club, the volunteers, sponsors, fans, and all the competitors.
MEN'S RESULTS
Main Draw: Jeronie Barnes/Dane Schmidgall def. Jerry Albrikes/Dan Hansen. 6-3, 6-3
Quarter Reprieve: Russell Benkaim/Jesse Carl def. Mike Leffke/Tom Weston, 4-6, 7-5, 10-4
Reprieve: Jeff Rightnour/Adam Salam def. Tyler Droll/John Harden, 6-3. 7-5
Consolation: Anthony Palmenter/Brad Pierce def. K.C. Kadow/Mark Morneau, 4-6, 6-3, 10-3
Consolation Reprieve: Erik Becker/Jim Clemo def. Lang Adler/Kevin Ye, 6-4, 6-4
WOMEN'S RESULTS
Main Draw: Sydney Berens/Sally Jones def. Cathy Ackerman/Katrina Driscoll, 7-5, 4-6, 6-3
Quarter Reprieve: Kristen Evans/Sandy Wang def. Diane Watson/Lhea Wiese, 6-4, 6-2
Consolation: Patty Uhlman/Ingrid Wecht def. Jennifer Allred/Katie Crenshaw, 6-1, 6-2
Consolation Reprieve: Elizabeth Lear/Caroline Tucker def. Leisha Chinn/Semmes Van Brocklin, 6-3, 6-3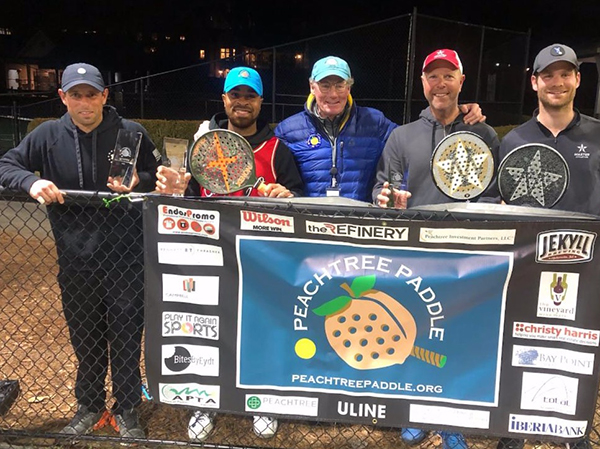 L to R: Winners Dane Schmidgall/Jeronie Barnes, TD Peter Lauer, Finalists Jerry Albrikes/Dan Hansen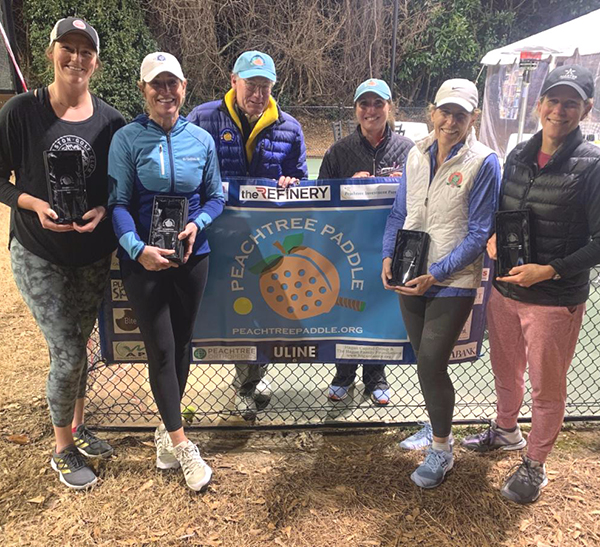 L to R: Winners Sydney Berens/Sally Jones, TD Peter Lauer, TD Dawn Mullican, Finalists Cathy Ackerman/Katrina Driscoll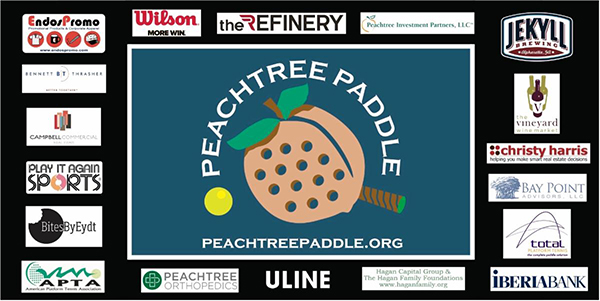 Sponsors