2021 Western NE Men's and Women's Recap
November 22, 2021
Longmeadow, MA
It was a beautiful weekend in western Massachusetts where 16 women's teams and 16 men's teams clashed in the 37th edition of the Western New England event in Longmeadow. The defending Champions on both sides were not in attendance so new Champions were sure to be crowned.
2021 Western New England Women's NRT Final Results (doc), (pdf)
WOMEN
The round of 16 had two three-set matches, with Ann Kenny and Shana Roberts needing the first set to warm-up against Lauran DeLong and Nindy Pike before taking two sets straight. The other three setter saw Shauna Muller and Karen Urban and Linda Brenske and Kelly Canniff 6-7, 7-6, 6-4. The quarterfinals had one three-setter, with the newer teams of Amy Shay and Jolene Sutter who overcame a very slow start against Georgina Alexandre and Elizaveta Lalic, 4-6, 6-0, 6-2.
The semifinals saw what most people believed were the four best teams facing off. The number one seeds and last year's runner-ups Delmonico/Gebbia vs. last year's quarter-final reprieve winners Shay/Sutter and number two seeds of Elliot/Rodezno v. Curtis/Ondrejkova. Shay/Sutter had apparently found their rhythm and were able to keep Gebbia's big forehand at bay as they pulled off the upset over Delmonico/Gebbia 6-4, 6-2. Elliot/Rodezno on the other hand seemed to be in control of the match the whole time and just took care of business with a 7-5, 6-3 victory.
The finals was everything the fans had hoped for – an epic three set battle that went back and forth the entire time as it came down to a few big points here and there in the final set tiebreaker. In the end, it was quite a day and tournament for Shay/Sutter as the pulled off back-to-back upsets of the two top seeded teams and won two three set matches on their way to the winner's circle.
WOMEN'S RESULTS
Main Draw: Shay/Sutter def. Elliot/Rodezno Kerri Delmonico/Lauren Gebbia, 3-6, 6-3, 7-6
Quarter Reprieve: Alexandre/Lalic def. Hall/Von Kennel, 6-1, 6-3
Consolation: Cran/Herchel def. Dorr/Driscoll, 6-1, 6-2
Consolation Reprieve: Espinoza/Navrotska def. Kane/Patrick, 5-7, 6-3, 10-7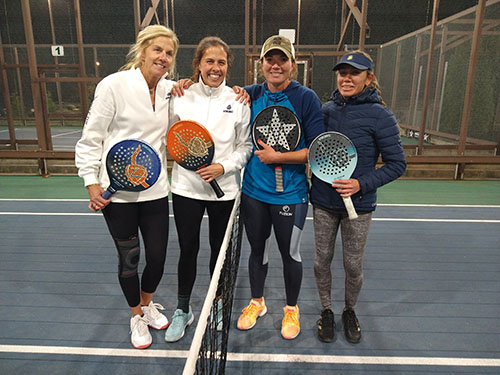 L to R: Winners Amy Shay/Jolene Sutter, Finalists Macie Elliott/Marcela Rodezno
MEN'S
2021 Western New England Men's NRT Final Results (doc), (pdf)
The round of 16 saw one three setter between Hansen/Morneau and Gonzales Rubio/Yamasato with Hansen/Morneau eventually puling it out 3-6, 6-1, 6-2. The rest were all two-setters with no unusual results. The quarterfinals was the same with the exception of the Fraser/Morgan vs. Court/Osses-Konig which saw four of the younger and highly talented players in the country on the same court. It was a long back and forth battle with Court/Osses-Konig losing the winning the first set, Fraser/Morgan making some adjustments and quickly taking the second set 6-1 only to have Court/Osses-Konig pull it together and take the third set for a 6-4, 1-6, 6-3 victory.
The semifinals were a contrast between a three-setter and a matter-of-fact two-set victory. Much to the dismay of the local fans, the number two seeds Hughes/Rams came out stone cold and lost the first set 6-0 in about 15 minutes. Thankfully for the onlookers, they turned it around in the second set and were able to pull out the last two sets 6-3, 6-2. The number one seeds of du Randt/Mitchell had an easier time against Court/Osses-Konig winning 6—2, 6-2.
In the final, Hughes/Rams again came out slow and couldn't seem to have any answers and lost the first set 6-2. Hughes/Rams seemed to find something in the second set and du Randt/Mitchell made some unforced errors on a few critical game points. While the set was closer, du Randt/Mitchell just had too much firepower.
Thank you to the organizing committee, the volunteers and staff at the Field Club of Longmeadow and GreatHorse Country Club, and to all the participants for a great event!
MEN'S RESULTS
Main Draw: du Randt/Mitchell Sven def. Hughes/Rams, 6-2, 7-5
Quarter Reprieve: Fraser/Morgan def. Hansen/Morneau, 6-1, 6-1
Consolation: Protesenko/Volclair def. Hisacox/Lalic, 6-4, 6-3
Consolation Reprieve: Chafee/Laffey def. Gonzales Rubio/Yamasato, 2-6, 6-2, 11-9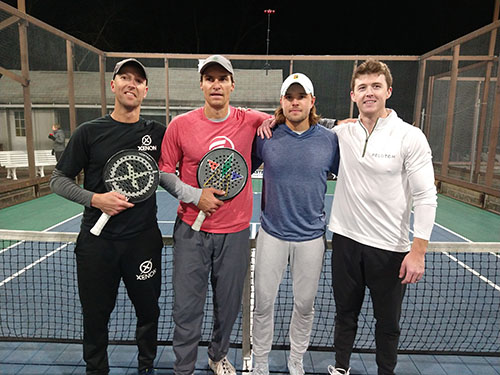 L to R: Winners Stephen Mitchell/Johan du Randt Finalists Filip Rams/John Hughes