Region V News 2008-2009
IL State Married Mixed
MARCH 20, 2009
GLEN VIEW CLUB, GOLF, IL

On March 14, couples from Illinois competed for honors in the the Illinois State Married Mixed tournament. The tournament was hosted by Glen View Club. This tournament requires that all teams must be married "before, during and after the tournament." Anyone who's played in a married mixed tournament understands where that comes from!
Congratulations to all the winners!
Illinois State Married Mixed A Draw
Illinois State Married Mixed B Draw
A Draw Finalists
| | Winners | Runners Up |
| --- | --- | --- |
| Main Draw | Sarah & Dan Williams | Christine & Kevin Schwartz |
| Consolation | Katy & Tom Kilborn | Martha & Dave Clarkson |
| Reprieve | Julie & Scott Reighard | Elizabeth & Brad Nassar |
| Last Chance | Kristin & Clay Whipple | Kimberly & Tim Gorham |
| Quarter Reprieve | Katie & Jim Mangan | Stephanie & Van Stapleton |
B Draw Finalists
| | Winners | Runners Up |
| --- | --- | --- |
| Main Draw | Cathy & Kevin McCulloch | Carol & Tim Cawley |
| Consolation | Beth & Milt Fuehrer | Kathryn & Chris Ebert |
| Reprieve | Laura & Steve Ash | Carol & Mark Dawley |
| Last Chance | Sue & Dan Niswonger | Megan & Dave Gieselman |
| Quarter Reprieve | Ann & Walter Fyk | Kathleen & Dennis Klaeser |

2009 NSWWPTL Results
MARCH 10, 2009
JAN VICTOR
CHICAGO, IL
What a great day we had for the NSWWPTL tournament on February 21 here in Chicago. It snowed most of the day, sometimes quite heavily. For my taste, it was perfect. We had 60 women who played all day and are probably still feeling the aches and pains from it. What fun.
Our winners were Kati Sciortino and Kristen Klauke. Kati is a regular in the league and Kristen joined her to play for the championship.
Indianapolis Open Results
FEBRUARY 23, 2009
INDIANAPOLIS, IN
The Indianapolis Open was held this past weekend. Participants competed in Women's Open, Men's Open and Men's 95+ divisions. The Men's and Women's Opens were opportunities to accumulate National Ranking Points and vie for spots on Region V's President's Cup team.
Practice Makes Perfect at St. Louis Platform Tennis Invitational
FRANK SANT, TOURNAMENT DIRECTOR
FEBRUARY 18, 2009
ST. LOUIS, MO
Who said that practice makes perfect? It may have been Bob Holthaus and Art Kerckhoff who entered the final day of the 2009 St. Louis Invitational having lost 18 consecutive sets dating back to 2007. However, they found themselves in a big money match early Sunday morning against Harry Freeman and Chris Wright. With a standing room only crowd watching, including many Calcutta stakeholders, the two teams exchanged numerous leads. Spectators rattled the warming hut glass at the conclusion of each long rally. Not only did Holthaus and Kerckhoff win their first ever tournament set, they pulled out a 6-4, 4-6, 6-4 upset victory
(pictured at left: Winners Rick Meyer & Graham Bundy)
Sue Watson Results
FEBRUARY 11, 2009
GLENVIEW, IL
Each year the women from the Chicago league's series 5-12 gather for the Sue Watson tournament, a great day of fun and competition. This year's event, held Friday, February 6, was no exception.
The tournament was hosted by Valley Lo Club under the direction of Margaret Tower and Julie Reilly. Matches were held at Valley Lo, Glen View Club, Sunset Ridge CC and North Shore CC, with luncheon and finals at Valley Lo.
Congratulations to winners Carrie Compall and Connie Falcone and runners up Laura Schulte and Tiffany Thoelecke.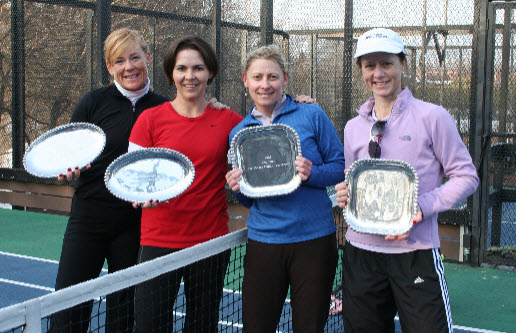 (l to r) Runners Up Laura Schulte & Tiffany Thoelecke, Winners Carrie Compall & Connie Falcone
Illinois State Tournament
ISABEL CABANNE
FEBRUARY 3, 2009
NORTHFIELD, IL
A note from the Director:
Dale Wyant, the tournament staff and I would like to thank all those who played and supported the 2009 Illinois State Paddle Championships. We had a good weekend of weather and a great weekend of paddle. The "New" Sunset Ridge Paddle Hut and 6 court facility was this year's host. Their staff and members made everyone feel at home (Chairs and tables with linens on the side courts were sett up for the 2 1/2 hr men's final).
The top 4 seeds of both the men's & women's held form to the semi-finals. But in the women's final it was the 3rd seed of Doten/Schwartz over the 4th seed of Batten-Lemery/Ohlmuller. Both teams had won hard fought 3 set matches to get to the finals. The 4th seed of Berka/Marino, on the men's side (aided by a partisan home crowd, Peter Berka is the head pro at Sunset) beat last year's National Champions in the semi's in 3 sets and then defeated 2008's IL State Champions Gambino/Mansager (7-6, 7-5).
It was great to see so many folks support the event this year, thanks again and enjoy the rest of the season.
All the best,
John Noble
Tournament Chair
Men's Draw (Excel format) Women's Draw (Excel format)
Men's Tournament
| Draw | Winners | Runners Up |
| --- | --- | --- |
| Main Draw | Berka-Marino | Gambino-Mansager |
| Quarter Reprieve | Eckert-McNight | Parsons-Schmigdall |
| Reprieve | Noble-Rose | Moran-Neave |
| Consolation | Smith-Sullivan | Edelson-O'Malley |
| Last Chance | Leonard-Stapleton | Fritzsche-Martin |
Women's Tournament

The more things change, the more they stay the same. That could have been the theme of this year's Illinois State Women's Platform Tennis Tournament. To start, tournament central was Sunset Ridge Country Club with its beautiful new hut surrounded by 6 courts. The place is so transformed you have to think hard to imagine it's the same spot

Next on the change agenda was the teams themselves. Instead of familiar pairings, the top 4 seeds were replaced by an exciting new order. Sally Cottingham and Chris Sheldon, who have dominated this tournament for years, appeared with new partners. Chris was top seed with Jane McNitt and Sally the second with Liz Hayward. Mary Doten and Hinsdale teammate Christine Schwartz were 3rd, while Marina Ohlmuller and Suzanne Batten Lemery rounded out the top 4 seeds.

And how about things that stay the same? The weather was brisk (to Chicagoans - downright cold to more southern folk) and for the most part clear. The tournament was beautifully run under the eye of Tournament Director Dale Wyant, the lunch and favors were wonderful, and the play was high caliber. And once again, local clubs generously provided all the courts needed for the 46 team draw.

All 8 seeds made it to the quarter finals, with the top 4 making it through to the semis. After that Doten-Schwartz moved past Cottingham-Hayward in a 3 setter to reach the finals, and Batten-Ohlmuller defeated McNitt-Sheldon. The final was an exciting 3 set knock-down drag-out with tie breaks in first and second sets.

Many thanks to the organizers, hut monitors and particpating clubs for a wonderful event!

| Draw | Winners | Runners Up |
| --- | --- | --- |
| Main Draw | Doten-Schwartz | Batten-Ohlmuller |
| Quarter Reprieve | Jones-MacKinnon | Taylor-Vinson |
| Reprieve | Campbell-McGuire | Bodman-Lee |
| Consolation | Doerge-Mangan | McEniry-Yorke |
| Last Chance | Schmidt-Zidar | Johnson-Shepard |


It'a a family affair. (l to r) Reprieve runners up Vicki Lee and Hallie Bodman, with Hallie's daughter, Hut Mom extraordinaire Donna Burke-Berger, and Reprieve winners Susan Campbell and Stephanie McGuire.


Ouch, ouch, ouch!! Quarter Reprieve Runner Up Shannon Vinson is
relieved her muscle didn't knot up until the finals.


Runners-Up Suzanne Batten Lemery and Marina Ohlmuller flank Tournament Director Dale Wyant.


Anne Marie Russell and Heidi McGarry enjoyed the tournament and were thrilled to have won some games off Batten-Ohlmuller.


Mary Doten (left) gets some nutrition and chats with Holly Tritt before the big final. Her partner Christine Schawartz is on the right. (Who are you texting Christine?)


Last Chance finalists Mary Clare Johnson and Pris Shepard
try out the serving spoons they won.
They're thinking a bowl of ice cream would be nice.

2009 Illinois State Women's Tournament Slide Show
Great Turnout at the Dec. 13 Viking Junior Tournament in Chicago
ISABEL CABANNE
DECEMBER 13, 2008
WINNETKA, IL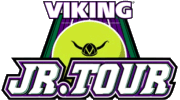 Although the day was gray and there was even a little rain, today's Viking Junior Tour tournament, held at the Winnetka Park District, was a shining success. There was excitement, comotion, pizza and an awful lot of impressive paddle played on Winnetka's 6 courts. The high turnout and the level of play spoke volumes for the time and energy that pros, parents, Viking, the APTA and others have invested in junior paddle. You couldn't help but wonder if we will see some of these kids playing in the Charities or the Midwesterns in the future.
Complete Coverage and Slides
Detroit Invitational 2008 Results
DECEMBER 7, 2008
DETROIT AREA, MI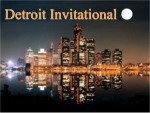 Congratulations to the winners of the 2008 Detroit Invitational
Men: Flip Goodspeed & Scott Mansager defeated Todd Ward & Thaddeus Reed 6-4, 6-4
Women: Eva Welsher & Nancy Budde defeated Susie Keane & Marina Ohlmuller
The Night the Lights went out at Lochmoor!!!
COURTENAY KOTAS
DECEMBER 4, 2008
GROSSE POINTE WOODS, MI
Paddle Exhibition - Thursday, October 9th
Location: Lochmoor Club, Grosse Pointe Woods, Michigan
Players: Susie Keane, Tom Dow, Madeleine Paolucci, Jeff Hodges "Dr. Detroit"
The weather was perfect, the courts have never looked better, there were cocktails and hors d'oeuvres being served, flowers pots and balloons accented the courts, and lastly the crowd exceeded expectations. (More than 70 members were in attendance)
However, after 45 minutes of stimulating paddle we ran into a small problem that even the best minds available could not solve…total blackout!
After a short time it was apparent that the lights were not coming back on. Thankfully we were still able to hold the raffle under candlelight in which many great gifts from Viking were awarded. Next, we all retreated to the pub where President Terry Olsen announced that the first round of drinks was on the house!
Now, it is up to you to put our paddle courts to good use and make your winter more enjoyable.
We have many great opportunities for you and your friends to get out and learn how to play this game: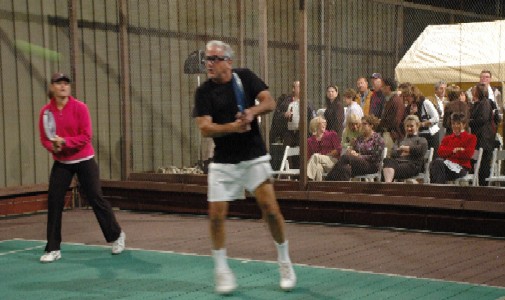 Weekly Clinics:
Monday & Wednesday 1:00 – 2:30 pm
Instructor Lucy Gorski
Maximum 6 players per clinic
Thursday 9:00- 10:30am
Instructor Madeleine Paolucci
Maximum 6 players per clinic
Special Event:
Friday, December 5th – Nationally renowned teaching pros , Mike Marino and Matt Garavaglia from Chicago, will be at our club teaching 3 sessions :
9:00-11:00am
12:00-2:00pm
6:00-8:00pm
**** PLEASE CONTACT THE TENNIS HOUSE AT 886-0777 TO RESERVE A SPOT FOR THESE GREAT OPPORTUNIITES TO LEARN THE GAME!
In closing, I would like to thank all the members and guests who came to support our paddle exhibition this October. What a great turnout! Hope to see you on the court!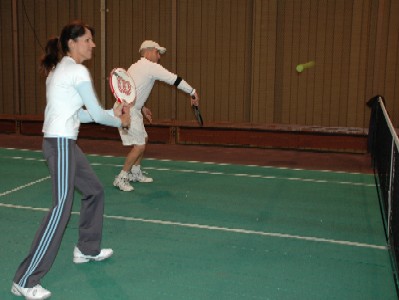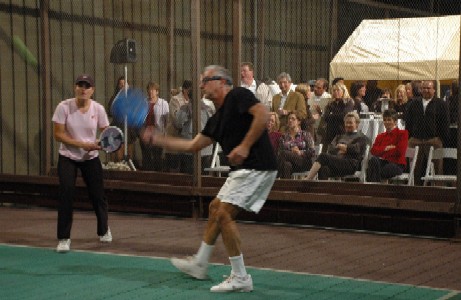 Chicago Platform Tennis Charities
NOVEMBER 7 - 9, 2008
CHICAGO'S NORTH SHORE, IL
Under weather conditions starting with some sun and warmth and quickly progressing to wind and cold, another weekend of superb paddle at the highest levels has come to an end in Chicago. Congratulations to all the winners!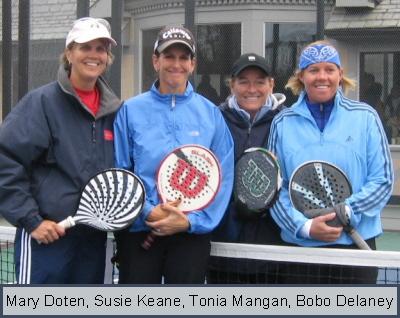 In the women's draw, Number 5 seeds Mary Doten and Susie Keane captured the title in an exciting 3 set match against top seeds Bobo Delaney and Tonia Mangan.
Doten and Keane also defeated #1 seeds Delmonico-Main in the semis and #3 seeds Dardis-Shay in the quarters. Delaney-Mangan arrived at the finals by besting #6 seeds Ohlmuller-Prop in the semis and #7 seeds Manley-VanCalcar in the quarters.
All 8 seeded teams, which included both new combinations and long-time partnerships, all made it to the quarter-finals.
Winners in other draws:
Quarter Reprieve: Dardis-Shay
16 Reprieve: Rohrbach-VanStarrenburg
2nd Round Consolation: Budde-Welsher
2nd Round Last Chance: Broccolo-McGuire
1st Round Consolation: Taylor-Vinson
1st Round Last Chance: Pelletier-Stevens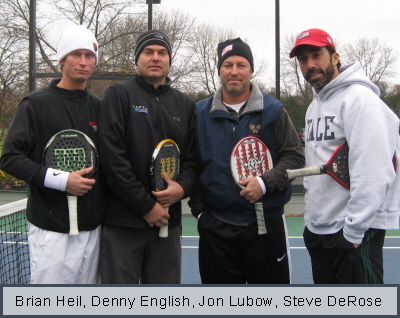 On the men's side, 12th seeded Steve DeRose and Jon Lubow from New Jersey took their first major title. They defeated 8th seeded Brian Heil and Denny English in 3 sets, 5-7, 7-5, 6-3.
DeRose-Lubow made their way to the finals by beating #4 seeds Marino-Stulac in the semis and #13 seeds Berka-Eberle in the quarters. English-Heil's path included wins over #3 Gambino-Ohlmuller in the semis and Barnes-O'Neil in the quarters.
There were numerous upsets along the way, and a lot of excitement as younger teams made inroads into a strong field of veteran champions.
Winners in other draws:
Quarter Reprieve: Berka-Eberly
16 Reprieve: Reed-Ward
32 Consolation: Bakker-Mott
Consolation: Smith-Sullivan
Last Chance: Moran-Neave
Draws in Excel format: Women's Draw Men's Draw Men's 95+ Draw
Minneapolis Clinic & Exhibition 2008
TODD WARD
OCTOBER 24, 2008
MINNEAPOLIS, MN
One of the missions of the APTA is to bring the great game of platform tennis to new areas of the country and to revive the sport in cities where it was once booming. The APTA/PPTA kicked off the year in Minneapolis on October 3rd and 4th, at the Minikahda Club. Mark Fischl (Long Island), Todd Ward (Cincinnati), Eric Moran (Chicago), and Rob Bakker (Cincinnati) headed to the city for a weekend of clinics, exhibitions and pro educational seminars. More
Chicago Junior Jamboree
ALAN GRAHAM
AUGUST 28, 2008
GLENVIEW, ILLINOIS
Six sites has been chosen for the Chicago Junior Jamboree, a free event geared to children 7 to 18 years old. The events are planned for Evanston, Exmoor, Hinsdale, Saddle & Cycle, Sunset Ridge, and Winnetka.
Mark your calendars for Sunday, October 19, from 3:30 to 5:30 PM.
The event will consist of basic platform tennis instruction, skills competitions, description of the history of the game, and will serve as an avenue for Chicago area juniors to become the next generation of players.

Favors and refreshments will be included along with raffles for paddles, balls, bags, and other prizes. There is no cost to participants as the event will be sponsored by the A.P.T.A., P.P.T.A., and the C.P.T.C.
To sign up, please e-mail Sarah Williams at miamimerger@sbcglobal.net by October 17.