2012 APTA Nationals
2012 APTA
Men's Nationals
Women's Nationals
Men's & Women's President's Cups
March 15-18, 2012
Long Island, NY
Hosted by the Long Island Platform Tennis Association in Region I
Tournament Director Duane Hayden
News, Draws & Images
Photos
Men's Final Draw (pdf) Women's Final Draw (pdf)
News from Tournament Central - Day to Day Coverage
Complete List of Winners and Finalists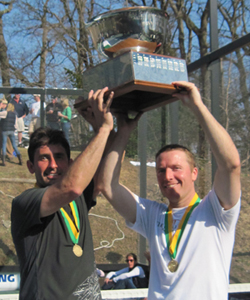 Congratulations to Chris Gambino and Drew Broderick (at left) for their victory in the APTA Men's National Championship. This is Drew's first men's national title, and Chris's third. Chris also won in 2001 and 2003 with David Ohlmuller. Read a match recap at PaddleTimes.
Congratulations to Lauren Zink and Cindy Prendergast (at right) for their third APTA Women's National Championship. They also won in 2011 and 2008. Cindy has a fourth title with Patty Hogan from 1999, and is a member of the Platform Tennis Hall of Fame. Read a match recap at PaddleTimes.
Thank You
Planning and running a successful National Championship requires a large team. This years' team was co-chaired by Duane Hayden and Tim Mangan. The APTA thanks Duane, Tim and their entire team. We also thank the hosting and participating clubs for their gracious hospitality, the club members who gave up court and facility time to the tournament, and the many sponsors without whom the tournament could not have provided the amenities it did.
What a year. What a tournament. What a sport!