2021 APTA Tour Cleveland Masters Recap
November 16, 2021
Cleveland, OH
Jessica Guyaux and Jacyln Williamson Cap APTA Tour Cleveland Masters
Scott Kahler and Paul Rose Top of Men's Draw
2021 Cleveland Masters Men's NRT Final Results (doc), (pdf)
2021 Cleveland Masters Women's NRT Final Results (doc), (pdf)
The APTA Tour Cleveland Masters men's and women's fields was surely one of the strongest in recent memory. Players from Chicago, Atlanta, Louisville, Charlotte, Pittsburgh, Rochester, Cleveland, Cincinnati, and Philadelphia came for great competition and a great Saturday night party. Despite the depth of the field, both the men's and women's finals pitted the top two seeds against each other.
WOMEN
On the women's side, neither of the top two seeds lost a set on the way to the finals. Jessica Guyaux and Jaclyn Williamson were challenged in the first set of the semis by Spencer Caravaggio and Marina Ohlmuller but moved on after a 7-5, 6-1 win. Alison Morgan and Denise Murphy had a slightly easier semi and defeated Olivia Fraser and Marie Matrka, 6-2, 6-2. Multiple Cleveland winner Guyaux and Williamson prevailed over Morgan/Murphy in a tight two setter, 6-4, 7-5.
MEN
Scott Kahler and Paul Rose, the number one seeds, made it the finals without dropping a set. However, the path to the finals for old partners Randy Lofgren and Graham McNerney wasn't as smooth as they had to survive a three-setter in the quarters against Dan Hersh and Edwin Lewis and then a three-setter against Filip Rams and Mike Wagner in the semifinals. The finals featured rallies that lasted over 200 hits and amazing gets. Lofgren/McNerney won the first set in a tiebreaker, but they weren't able to hold on in the face of their competition and the snow showers changing the game to skidball. Kahler/Rose took the title at 6-7, 7-5, 6-3.
Kudos go to Tournament Director Lea Morris for her great organizational skills, her choice of well received favors, and Saturday night's endless food. Thanks also to the Cleveland Racquet Club for hosting the Cleveland Masters. and to Canterbury Golf Club, Chagrin Valley Athletic Club, Chagrin Valley Country Club, Chagrin Valley Hunt Club, Cleveland Racquet Club, Cleveland Skating Club, The Country Club, Kirtland Country Club, Shaker Heights Country Club, and The Wembley Club for loaning their courts.
WOMEN'S RESULTS
Main Draw: Jessica Guyaux/Jaclyn Williamson def. Alison Morgan/Denise Murphy, 6-4, 7-5
Quarter Reprieve: Amy Heil/Alice Tunaru def. Vicky Brown/Janet Mazzola, 6-2, 6-4
Reprieve: Roopali Hall/Chris Maglocci def. Rita Kladstrup/Candice Leonard, 6-1, 6-2
Consolation: Lindsey Rozek/Karla Salahshour def. Hillarie Parinello/Dionne Pike, 6-3, 6-1
Consolation Reprieve: Sara Aldinger/Cheryl Imo def. Danielle Gillespie/Amy Thimons, 6-1, 7-5
MEN'S RESULTS
Main Draw: Scott Kahler/Paul Rose def. Randy Lofgren/Graham McNerney, 6-7, 7-5, 6-3
Quarter Reprieve: Dan Hersh/Edwin Lewis def. Rashid Hassan/Ajay Khurana, def. inj.
Reprieve: Mitch Granger/Rudinei Kalil def. John Mah/Tom Wiese, 6-0, 6-3
Consolation: Jared Isaacs/Jeremy McClelland def. Will Kleeman/Matt Rogers, 6-1, 6-2
Consolation Reprieve: Dean Gannon/Chris Howell def. K.C. Kadow/Mark Morneau, 1-6, 6-1, 10-6
Last Chance: Cooper Friday/John Kilmer def. Cody Dolan/Dave Thimons, 7-5, 6-0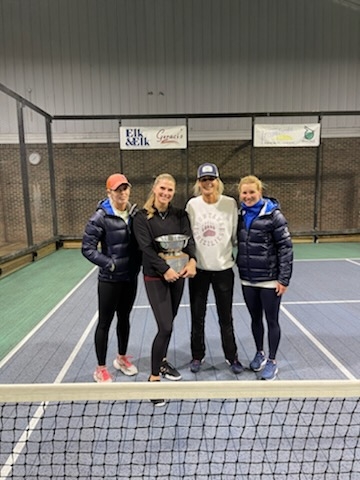 L to R: Winners Jessica Guyaux/Jaclyn Williamson Finalists Denise Murphy/Alison Morgan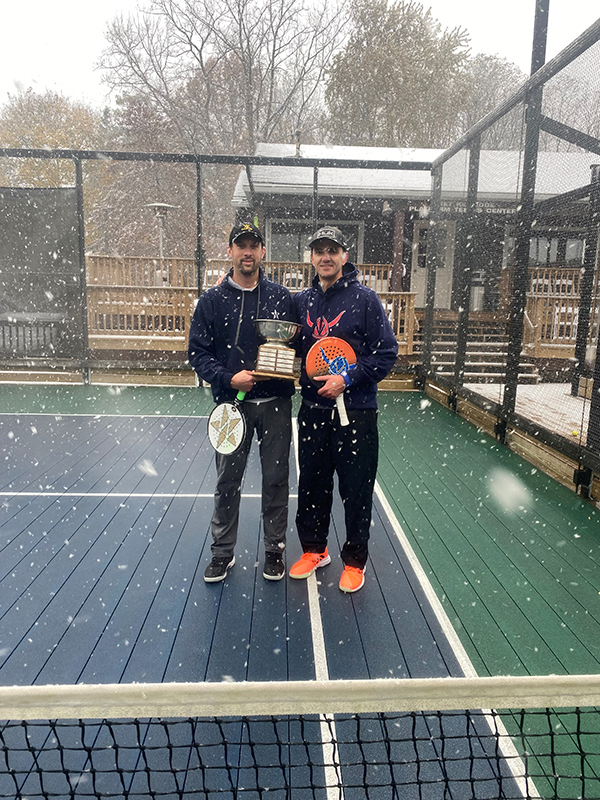 L to R: Winners Scott Kahler and Paul Rose