Region IV News 2010-2011
Cross-Border Pairings Take Titles in Canadian Open and Help Raise $2000 for Cancer Community
SUZANNE LANTHIER
APRIL 15, 2011
TORONTO, CANADA

At the official season ending tournament in Canada, Americans teamed with Canadians to take both Men's and Women's titles. For the first time, this event took a charitable slant in honour of those paddlers, past and present, who face the realities of cancer every day including and especially APTA President, Tim McAvoy.
Father & Daughter Capture Toronto Open Titles
All Canadian Team Keeps Mixed Title North of the Border
SUZANNE LANTHIER
FEBRUARY 1, 2011
TORONTO, ON

Paddle, paddle and more paddle. And just when you thought you were done .. even more paddle.
Combined events of the Toronto Open and Mixed Canadian Tournaments (unofficially referred to as The 'Advil' Open Weekend) brought out an overwhelming number of family pairings to the Kingsway Platform Tennis Club this past Saturday and Sunday.
Complete Coverage
Live Scoring and Great Paddle Mark the 2011 Midwesterns
JANUARY 17, 2010
CINCINNATI, OH

This year the Midwesterns was a combination of tradition and innovation: tradition in the wonderful local hospitality and the impressive array of platform tennis talent; innovation in the new APTA live scoring system that allowed players and fans to keep track of the tournament in real time.
Complete Coverage
Cleveland Juniors have Fun in the Fall
DECEMBER 7, 2010
CLEVELAND, OH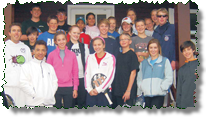 The CRC Fall Junior Paddle Tournament was held on Saturday, November 20 and featured 10 junior teams, including the nationally ranked Pittsburgh duo of Will Kleeman and Garrett Powell who won the boys division. Congratulations to the runners-up Drew Krantz and Tyler Krantz who held their own in a tough match.
The girls division was won by locals Izzi Nejedlik and Luisa Burrell. Runners-up were Jennifer Maznik and Katy Wigman.
Congrats to all the kids who came out to compete and many thanks to JT and Tim Nieman for some great organizing!!
Cleveland Juniors Page
Fischer & Guyaux Top Women's West Penn
DECEMBER 4, 2010
PITTSBURGH, PA

In perfect paddle weather Kelly Fischer and Jessica Guyaux defeated Janet Mazzola and Ann Turner in a final that duplicated the recent Cleveland Masters finals. Fifty four teams played at 4 clubs in the Sewickley area. The beautiful new paddle "campus" at the Sewickley YMCA was tournament headquarters for the first time ever.
Complete Coverage
Cleveland Masters Teams Up with APTA Clinic
ANN SHEEDY
NOVEMBER 16, 2010
CLEVELAND, OH

Last weekend's events in Cleveland started with a free APTA Clinic & Exhibition. Friday's night's clinics brought out more than 25 new faces, as well as many tournament and social players. Good natured ribbing and serious pointers were distributed during the 3 hours of clinics, as well as goodies from the barbecue. Following the clinics, pros Juan Martinez Arraya, Patricio Misitrano, Denny English and Brian Heil displayed their skills for the crowd to enjoy. Saturday was a gorgeous sunny day; great for the spectators but a bit more challenging for the players.
Complete Coverage
Shadow Lake Wraps Up 32nd Year of Play
OCTOBER 25, 2010
ROCHESTER, NY


The 32nd Shadow Lake Invitational took place this weekend at the Shadow Lake Golf & Racquet Club and other Rochester area clubs. Events included the Men's Open, Women's Open, Men's B and Women's B. Both national and regional ranking points were up for grabs in the Men's Open, with regional points on the table in the Women's Open.
Complete Coverage
Another Inferno at Four Bridges
JASON GRAY
OCTOBER 25, 2010
CINCINNATI, OH

The 5th Annual Four Bridges Inferno Cup took place on September 20th under the lights. The format featured each team taking a shot at every team playing an 8 game pro set. To make it very competitive and exciting, the format was to win as many games as possible not overall victories.
Complete Coverage
APTA Grant Money at Work in North Park
SEPTEMBER 4, 2010
NORTH PARK, PA
Under glorious blue skies (definitely not the usual Pittsburgh paddle skies), the North Park Platform Tennis Association had its official ribbon cutting ceremony opening its newly refurbished Court #1. More